Skanes holidays 2019 / 2020
Skanes is a modern resort spread around a gorgeous bay in Tunisia, 3 kilometres west of Monastir. The breathtaking beach of fine white sand is the main attraction, particularly with families and couples, along with the relaxed, peaceful vibe. You can tee up on a golf course, try your hand at a variety of water sports, or unwind with a massage at a luxurious spa. The beautiful and ancient town of Monastir offers plenty of history and culture, including a magnificent 8th-century fortress, along with lively shopping and nightlife and an excellent selection of all inclusive hotels.
Most popular hotels in Skanes
Ramada Liberty Resort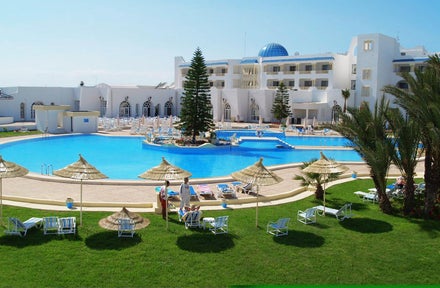 Ramada Liberty Resort
Skanes
Skanes Serail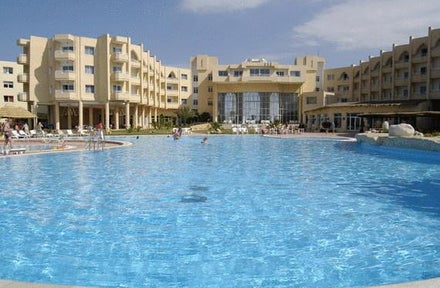 At a glance
Currency:
Language:
Time Zone:

GMT +

Average flight time:

5h 10m
When to go
(°C) Avg. High Temp
Beaches
Skanes is arranged around a wide, beautiful bay and features an unbroken string of gorgeous, sandy beaches. Generally regarded as the most stunning in the area, they dip gently into turquoise seas, making them ideal for families with young children. Many of the hotels have private beach areas, with sun loungers, parasols and bar service, but there are also lots of public areas where you can set up camp for the day. Most of the hotels offer a range of services, including pedalo and kayak rental, along with plenty of options for eating and drinking. There are more beaches in Monastir itself, which also offers boat trips along the coast.
Read More about Beaches
Nightlife
The nightlife in Skanes is largely centred on the big hotels, which offer a wide-ranging programme of entertainment and activities. You can while away the evening at a beachfront bar, cocktail in hand, or take in some live music or traditional belly-dancing. There are several pubs and bars catering largely to British holidaymakers, some of which host gigs, comedy nights and other events. In Monastir, you'll find a wider choice of bars and cafés and a sprinkling of clubs if you're in the mood to dance the night away. Sousse, about a 20-minute taxi ride away, has even more nightlife.
Read More about Nightlife
Couples
The action in Skanes is mainly focussed on the beach, where you can take part in a host of activities, from canoeing and kayaking to water skiing and parasailing. Most of the hotels can arrange equipment hire and even courses. If you're a golf fan, the resort boasts two courses, and other local activities include horse-riding (treks along the beach are a favourite). Many of the larger hotels boast tennis courts and other sports facilities, along with swimming pools. Several tour operators offer excursions into the desert, where you can zip around in dune buggies or Jeeps, or even ride a camel.
Read More about Couples
All hotels in Skanes
Not sure which Hotel to go to? Check out our top Skanes hotels:
4 Star Hotels in Skanes