Sumptuous Sissi holidays 2019 / 2020
If you fancy the Cretan weather, but don't want to go wild in one of the islands famously lively resorts then check out peaceful, family-friendly Sissi on the north coast of Greece's largest island. Sissi has long been a favourite with foreigners from all over the world, yet has still maintained its character as a traditional Cretan fishing village. Laying on some of the best coastline in the Mediterranean, it's the perfect destination for your 2019 / 2020 holiday. If you fancy upping the ante, most of the island's top attractions lie only a day-trip away. Make your way to the famous party town of Malia, or just a little further along the coast to the island's historical capital, Heraklion.
A holiday in Sissi makes for a great place to take the kids, with its protected beach guaranteeing calm waters for smaller swimmers. There's a great choice of beaches nearby, including one specialising in snorkelling with an offshore island to explore and crystal-clear waters and a fine selection of all inclusive hotels.
Most popular hotels in Sissi
Vasia Resort (ex. Sentido)
Vasia Resort (ex. Sentido)
Sissi, Crete
Marigianna Apartments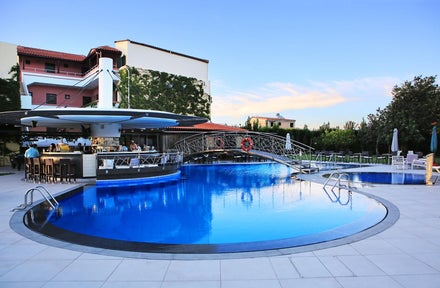 Marigianna Apartments
Sissi, Crete
At a glance
Currency:
Language:
Time Zone:

GMT +

Average flight time:

4h 0m
When to go
(°C) Avg. High Temp
Top Sissi Destinations
Check out some of our best destinations close to Sissi
All hotels in Sissi
Not sure which Hotel to go to? Check out our top Sissi hotels:
5 Star Hotels in Sissi
4 Star Hotels in Sissi