Holidays to Sibenik
A city with seriously beautiful spots, including a UNESCO World Heritage Cathedral, Sibenik holidays offer a fantastic place to visit. This up-and-coming town is buzzing with energy, new bars and restaurants line the streets and the medieval quarter is a must for those that enjoy meandering through the backstreets and looking at the ancient buildings. Located on the Dalmatian Coast, Sibenik is blessed with a Mediterranean climate, picturesque coves and many small towns to discover.
One of the oldest Croatian cities on the Adriatic, Sibenik accommodation is bursting with fabulous places to stay. From charming bed and breakfasts to bright all inclusive resorts. Due to Sibenik's location, many hotels are moments from the sparkling water with phenomenal views. If you choose to stay close to the centre of town, you will be ideally located next to attractions such as the UNESCO World Heritage Saint James Cathedral. There are plenty of family friendly hotels, some even boasting waterparks, as well as hotels offering plush rooms perfect for a romantic getaway; Sibenik holidays mean business.
Most popular hotels in Sibenik
Amadria Park Jure Hotel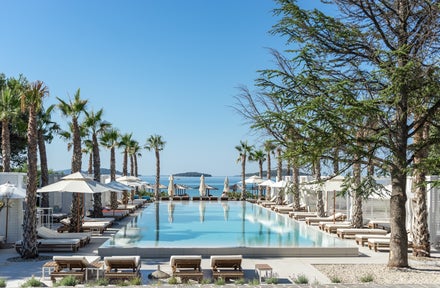 Amadria Park Jure Hotel
Sibenik, Central Dalmatia
At a glance
Currency:
Language:
Time Zone:

GMT +

Average flight time:

2h 10m
When to go
(°C) Avg. High Temp
Top attractions
Travel back in time with a visit to an authentic Croatian village. The Dalmatian Ethno Village is tucked away in the woods and provides an excellent day wandering in the shade of the leafy trees. The picturesque village is a sneak peek into a much simpler way of life. The century old mills still produce homemade bread while the distillery offers visitors a chance to taste traditionally brewed brandies. The scent of freshly baked bread alone may lure you into this quaint area of twisted olive trees and herb gardens.
No holiday to Sibenik would be complete without a visit to the UNESCO World Heritage Site at St James Cathedral. This delicate fusion of Gothic and Renaissance art is a monument to the influence of Italian, Tuscan and Dalmatian architecture. A visit here offers a chance to relish in the quiet peace of the cathedral. A must for those who enjoy learning about architecture in early Renaissance style.
The Krka lakes offer visitors a chance to witness an area of outstanding beauty. This dramatic waterfall is located in the Krka National Park, only 20 minutes' drive away. You can swim and bathe in the warm waters at the base of the waterfall, perfect for those hot Croatian summers. For those fascinated by history, a visit to the tiny Visovac Island in the middle of Krka lake is definitely advised. This miniscule island can be visited by boat tour and houses the Krka monastery a stunning Gothic structure built on an old Roman site.
Read More about Top attractions
Action & Adventure
Ideal for families and couples alike this charming area provides entertainment for all ages. You can travel around the entire harbour city by foot, saving on taxis and allowing an easy-going slow pace of life to take over you. History buffs flock holiday in Sibenik for the abundance of architecture and rich history that can traced back to being one of the first native Croatian towns, as well as the seat of the Croatian king.
There are a multitude of taverns and restaurants to explore and taste a wealth of Mediterranean dishes. Being by the sea, Sibenik specialises in delicate, often grilled, fish dishes and fresh salads with splashings of olive oil.
Along with the water sports and vast countryside spaces there is also a thrilling adventure sport scene. Brave the bungee from Sibenik Bridge for a truly breath-taking experience. To relax on the beach, head out to one of the nearby islands and top of your tan on the pebbled shoreline.
Read More about Action & Adventure
All hotels in Sibenik
Not sure which Hotel to go to? Check out our top Sibenik hotels:
4 Star Hotels in Sibenik