Sharm El Sheikh holidays 2019 / 2020
Sharm El Sheikh in Sinai, Egypt, is considered one of the premier diving locations in the world, as well as functioning as an idyllic escape for sun worshippers.
What type of holiday does Sharm El Sheikh offer?
Whether you delve into the depths of the Red Sea or Naama Bay, you'll still find countless things to do in and around during your Sharm 2019 / 2020 summer holidays. From venturing into the surrounding deserts, to dining on the delectable cuisine of Egypt amid wonderful eateries.
Action, adventure and discovery are the primary themes for those descending on Sharm, perfectly-suited holidays to those in search of action and adventure, though you'll also find yourself mesmerised by the authentic way of life which is also accessible for those on their holidays to Sharm El Sheikh.
Sharm El Sheikh is great for:
All inclusive holidays - Sharm El Sheikh all inclusive holidays provide ample opportunity to enjoy luxurious resorts in the Egyptian heat. The Royal Albatros Moderna is a beachfront stunner!
Family holidays - resorts in Sharm El Sheikh have some beautiful pools, and with a good package deal, they're an ideal escape for a family with active kids. Some offer kid's clubs, creches and daily entertainment.
Cheap holidays - Sharm El Sheikh is a great destination for a cheap summer holiday. You can eat incredibly well on a budget, so make sure you try some local cuisine including Ful Medammes for breakfast and some tasty authentic falafel.
Most popular hotels in Sharm el Sheikh
Concorde El Salam Hotel Sharm El Sheikh
Concorde El Salam Hotel Sharm El Sheikh
Sharm el Sheikh, Red Sea
Royal Albatros Moderna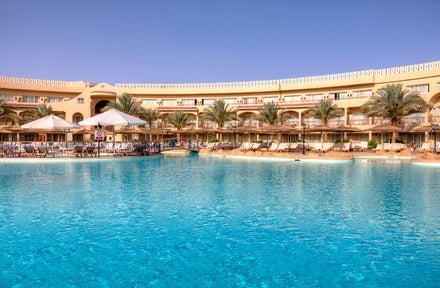 Royal Albatros Moderna
Sharm el Sheikh, Red Sea
It's that time of year – the skies are darkening, weather's decidedly more chilly, and you're dreaming of your next break away for some relaxation,
Sharm el-Sheikh is undoubtedly one of the jewels in the crown of the Egyptian coast with thousands of holidaymakers flocking there every year.
At a glance
Currency:
Language:
Time Zone:

GMT +

Average flight time:

11h 15m
It's getting close to the holiday season, and soaking up some sun and enjoying a little bit of paradise really shouldn't break the bank. There are plenty of ways you can save and enjoy on a
cheap holiday
of your dreams.
The summer is edging ever closer and the sun is finally putting its hat on across the UK.
When to go
(°C) Avg. High Temp
Top Egypt Holiday Destinations
Check out our top hotels in Sharm el Sheikh! Wondering where else in Egypt you can stay? Check out some of our most popular cheap holiday destinations in Egypt:
All hotels in Sharm el Sheikh
Not sure which Hotel to go to? Check out our top Sharm el Sheikh hotels:
5 Star Hotels in Sharm el Sheikh