Seville holidays 2019 / 2020
Seville offers the best of Andalucia in a compact, easy-to-navigate setting that is ideal for your holiday to Spain in 2019 / 2020. Spain holidays are generally affordable, and a cheap holiday to Seville is totally possible if you make the use of our ranges of deals.
A holiday in Seville offers the beautiful architecture, pleasant weather and heritage of Spain, and makes an ideal destination for a short break or romantic weekend away with your significant other. Whatever your interests, Seville has something to suit. As the capital of the Andalucia region, the city has a culture and ambience all of its own while embodying much of the heritage that makes Spain such a popular holiday destination.
You can stay within the city to explore the wonderful architecture and historic attractions or explore the surrounding small villages and towns that capture the quaint charm of the Andalucia region in more unspoilt areas. Whether you're looking to explore the capital's excellent culinary scene, immerse yourself in the history of the area or relax and unwind with your family, Seville has everything you need for a memorable Spanish holiday.
Most popular hotels in Seville
Patio de la Alameda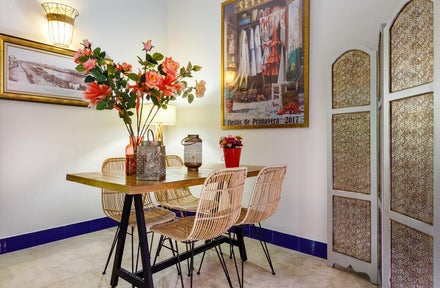 Patio de la Alameda
Seville, Andalucia
If you love chocolate as much as we do, you'll love the Easter traditions in the UK! Eggs, eggs and more chocolate eggs. But in Corfu, they throw pots at Easter, and in the Czech Republic, men (gently!) whip the legs of ladies they like with pussy-willow branches on ...
At a glance
Currency:
Language:
Time Zone:

GMT +

Average flight time:

2h 20m
Christmas is just around the corner and we're all pondering the perfect gift for friends and family. Why not treat yourself to a
city break
or a spot of
winter sun
– and get your holiday shopping done at the same time? (We like to think of this as the ...
Check out our essential guide to where to go in
Spain
, from its sun-drenched islands and costas to its thrilling cities and charming fishing villages.
Spain
is vast and varied, a beautiful country blessed with remarkable landscapes, fascinating culture, and a spectacular coastline. Whether you're coming for the sunshine ...
When to go
(°C) Avg. High Temp
All hotels in Seville
Not sure which Hotel to go to? Check out our top Seville hotels:
3 Star Hotels in Seville