Sardinia holidays 2019 / 2020
Spending a week on holiday in Sardinia might not be long enough! With our Sardinia cheap holiday deals, you can find just the right break for you. We're personally a bit in love with all inclusive holidays to Sardinia - the food, drink and relaxation are pretty hard to beat.
Steeped in a rich history, with a culture spanning back to the Phoenicians, Sardinia presents the allure of ancient history with a modern and sophisticated holiday destination. From the exclusive Costa Smeralda, the "Emerald Coast", with its lush golf courses, luxury hotels and gorgeous sandy stretches, to the ancient, winding capital city of Cagliari, which looms, citadel-like, above the Mediterranean Sea, Sardinia will dazzle you.
Coast to coast the crystalline bays will lure you in, and the white sands will soothe you, and it doesn't matter if you decide to travel by car, by boat, by helicopter, lounge in a luxurious resort in Liscia da Vacca, or settle down in a quaint hotel in Olbia, roam in the wilds of the La Maddelena archipelago or meander along a cobbled street in Alghero, booking a 2019 / 2020 Sardinian holiday might be the best idea you've had this year. Get your holiday started with a look at our top hotels in Sardinia.
Most popular hotels in Sardinia
Geovillage Hotel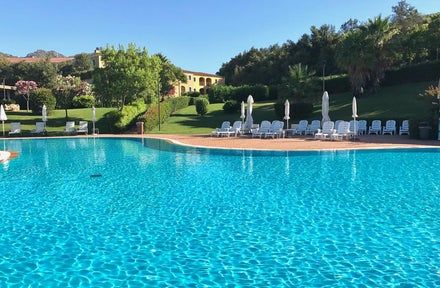 Geovillage Hotel
Olbia, Sardinia
Soak up the dolce vita with our essential guide to where to go in Italy. From the glamorous capital of Rome to medieval time capsules in Tuscany, we've picked out the best destinations in Italy for your holiday. Food, beaches, history, culture…we've got all the Italian highlights ...
At a glance
Currency:
Language:
Time Zone:

GMT +

Average flight time:

2h 25m
When to go
(°C) Avg. High Temp
Top Sardinia Destinations
Check out some of our most popular cheap holiday destinations in Sardinia.