Sal is a small island located in Cape Verde, one of ten islands that make up the Cape Verde Islands. Home to the resort of Santa Maria, Sal is a peaceful, beach-filled island, with typical Verdean hospitality awaiting you.
With only 10 days of rain a year, water temperatures that can reach 27 degrees in the summer months, and a rugged peace that characterising the Cape Verde Islands, Sal is the best destination for a 2019 holiday you've never heard of.
Most popular Santa Maria (Cape Verde), Cape Verde Islands hotels
Iberostar Club Boa Vista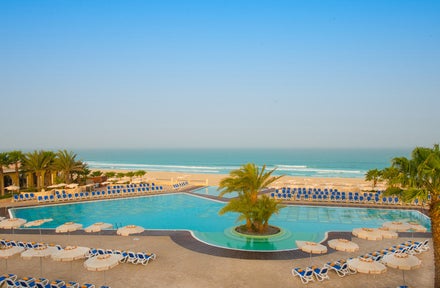 Iberostar Club Boa Vista
Sal Rei
Why not treat yourself this year, and celebrate New Year's Eve 2017/2018 somewhere warm and sunny? We've got some amazing late deals, plus great value all-inclusive holidays, that mean that an escape to the sun for your New Year break is surprisingly affordable! Our favourite places to ...
At a glance
Currency:
Language:
Time Zone:

GMT +

Average flight time:

5h 45m
When to go
(°C) Avg. High Temp
Top Attractions
The top attraction for tourists on Sal is definitely the resort of Santa Maria. Home to large and luxurious all inclusive hotels and resorts, Santa Maria is usually a top pick for a base whilst exploring the rest of Sal. Miles and miles of sandy beaches and clear blue waters make Sal and Santa Maria quintessential beach holiday destinations. You'll find bars, restaurants and colourful, authentic houses dotted along the seafront.
Espargos, in the centre of Sal, is the island's capital. Espargos means 'asparagus' in Portuguese and refers to the wild asparagus that grows in sandy areas around the island. Unlike many other original colonial settlements in the Cape Verde Islands, much of Espargos' buildings were constructed post-WW2 after Mussolini's Italian government received the rights to construct an airport on the island.
Palmeira is a small fishing village located on the west coast currently undergoing heavy development to improve tourist facilities. Similarly, Murdeira, also on the west coast, is currently undergoing improvements to its infrastructure to provide for an expected increase of tourists. No better time than now to visit Sal than in 2018 / 2019!
Read More about Top Attractions
Beaches
When approaching Sal by air you'll understand why the Portuguese originally named the island Llana, or 'flat.' Sal is just one huge, flat, sandy beach. Ringed on all sides by stretches of sand that are so undeveloped you might never see another person, Sal is the epitome of beach holidays. Santa Maria is the top beach resort, but getting out and exploring the island will reward you with some fantastic spots to lay your towel.
Because Sal is so flat a strong wind can blow up from the African coast, making the beaches on Sal perfect for watersports such as windsurfing and surfing.
Read More about Beaches