Introducing holidays to Roda
Roda is located on the north-east coast of Corfu, a pleasant coastal walk of 25 minutes from neighbouring Acharavi. Roda is a small resort tailored to summertime tourism and as such becomes very quiet during the winter months. Friendly locals, a lovely balance between bustling beach-fun and laid-back family holidays make Roda one of Corfu's top spots for a 2019 / 2020 holiday.
Most popular hotels in Roda
Roda Beach Resort & Spa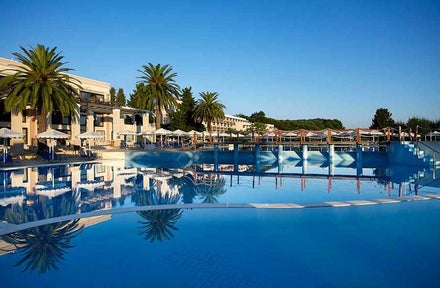 Roda Beach Resort & Spa
Roda, Corfu
At a glance
Currency:
Language:
Time Zone:

GMT +

Average flight time:

3h 0m
When to go
(°C) Avg. High Temp
Top attractions
Roda's 7km of beach links the two resorts of Roda and Acharavi and is made up of mostly sand and pebbles. Sections of the beach have been awarded the Blue Flag award and as such its up to the standards of some of the finest beaches in Europe. Expect spotless sands, shallow warm Mediterranean waters and a host of watersports from jet-skiing to ball games on the sand.
Roda is ideal for a cheap holiday. There are some excellent deals on hotels that are moments from the beach. Due to the fluctuating season in Roda, you can really find a cheap holiday deal if you're looking for one. You'll still enjoy the same weather, hospitality and gorgeous beach. Booking a September stay, before the resort mostly returns to its sleepy village persona in October running all the way to May, is a great way to save cash.
Read More about Top attractions
Families
Roda is a top family holiday destination. The excellent Blue Flag beach is shallow and warm, ideal for kids who like a swim and a splash. The variety of restaurants along the main village strip means that no fussy eater will go hungry. Plus, this area will get lively at night, but not in a messy way! Expect Greek plate-smashing and live music.
In the surrounding countryside there's ample space to spread out and explore the wilds. Pretty much untouched, the seafront walk to Acharavi will take you 25 minutes, or an hour if you stop to enjoy some drinks or refreshments at one of the authentic tavernas dotted along the route.
Read More about Families
Top Roda Destinations
Check out some of our most popular cheap holiday destinations near Roda:
All hotels in Roda
Not sure which Hotel to go to? Check out our top Roda hotels:
5 Star Hotels in Roda