Riviera Maya Holidays 2019 / 2020
Located on the east of the Yucatán Peninsula in Mexico, Riviera Maya is well known as the ultimate getaway for total relaxation. With white sands lined with coconut trees, and the crystal clear waters of the Caribbean Sea, Riviera Maya is a true paradise, with a stunning coastline waiting to be explored.

Riviera Maya holidays bring you to the stunning Mexican Caribbean coast, home to some of the best diving sites in the world, and famous for being a playground for watersports fans. Couple this with ancient cultural attractions and historical highlights, and you have one of the most colourful regions in Mexico.

We offer a wide range of Riviera Maya all inclusive holidays, as well as cheap holidays to top Riviera Maya hotels, where you can relax, unwind, or enjoy incredible adventures. The Caribbean island of Cozumel is just a short boat ride away, too!
Most popular hotels in Riviera Maya
Grand Palladium White Sand Resort & Spa All Incl.
Grand Palladium White Sand Resort & Spa All Incl.
Riviera Maya
Grand Palladium Kantenah Resort & Spa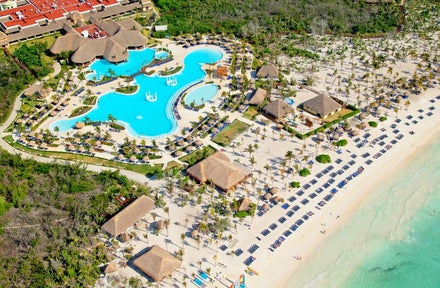 Grand Palladium Kantenah Resort & Spa
Riviera Maya
At the end of 2017, UNESCO officially acknowledged what all us pizza fanatics have always known: nothing compares to Neapolitan pizza. The art of 'pizzaiuoli' – the traditional practice of pizza-making that originated in Naples – is now inscribed on the Intangible Cultural Heritage List. It's in good company: other cuisines ...
Sun. Beaches. Warmth. That's what we all need at the end of a long winter! So, where is hot in March? What's the best holiday destination with guaranteed sunshine? We've got all the answers here at, along with great-value
all inclusive
holidays,
late deals
and
low deposits ...
At a glance
Currency:
Language:
Time Zone:

GMT +

Average flight time:

10h 15m
By the time April rolls around, you're probably dreaming of a holiday somewhere with guaranteed sunshine. At loveholidays.com, we've come up with a fantastic choice of destinations that will help you decide where to go for your April 2018 holiday. Perhaps you'd like to visit the ...
What could possibly be more inviting on holiday than being able to swim up directly to your room from the pool? We've got lots of fabulous hotels and resorts with this luxurious amenity at loveholidays.com – and, thanks to our
late deals
and low deposit holidays, they're more ...
When to go
(°C) Avg. High Temp
Places to go
Check out our top destinations near Riviera Maya
All hotels in Riviera Maya
Not sure which Hotel to go to? Check out our top Riviera Maya hotels:
5 Star Hotels in Riviera Maya