Remarkable Rethymnon holidays 2019 / 2020
Take a step back in time to the fascinating, mythical world of ancient Greece with a 2019 / 2020 holiday in Rethymnon. Nestled along the hilly northern coastline of the island of Crete, this beautiful seaside city entices all who visit with its historic charm. Unmistakable Venetian architecture rises above the atmospheric backstreets and sun-drenched waterfront, old world tavernas peering out over the quaint little harbour of colourful fishing boats and the ancient sea wall. It's an ideal spot to relax after a day of exploring with a cold drink and plate of mezze.
Holidays in Rethymnon are synonymous with its vibrant atmosphere, the sound of mopeds buzzing around, the chatter of locals as they catch up over coffee on cobbled streets, or the lively harbour scene of boats coming and going. Golden sandy beaches stretch out either side of the city, making it easy to escape the hustle and bustle and find your feet stepping out into invigorating Mediterranean waters. And let's not forget Rethymnon's buzzing food and drink scene, which coupled with an eclectic choice of nightlife, should mean there's something for everyone after dark.
Most popular hotels in Rethymnon
Rimondi Grand Resort & Spa Hotel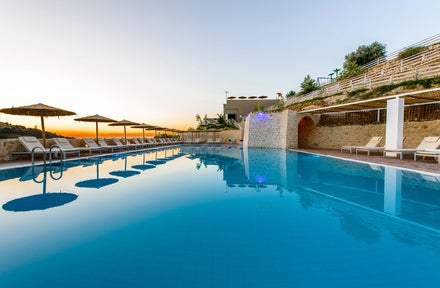 Rimondi Grand Resort & Spa Hotel
Rethymnon, Crete
Grecotel Creta Palace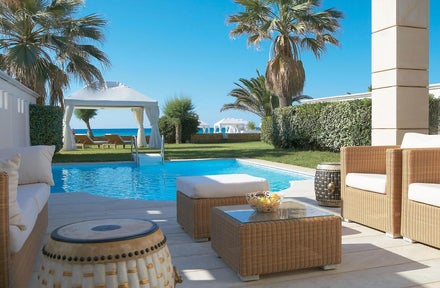 Grecotel Creta Palace
Rethymnon, Crete
At a glance
Currency:
Language:
Time Zone:

GMT +

Average flight time:

4h 0m
When to go
(°C) Avg. High Temp
Places to go
Check out our top deals on destinations near Rethymnon
All hotels in Rethymnon
Not sure which Hotel to go to? Check out our top Rethymnon hotels:
5 Star Hotels in Rethymnon