Puerto San Miguel holidays 2019 / 2020
If you're looking for a holiday in 2019 / 2020 that you'll never forget, then Puerto San Miguel is calling your name. From its dramatic hilltop position, San Miguel on Ibiza's north coast commands stunning views of the surrounding countryside. Holidaymakers have the chance to explore the resort's beautiful surroundings to their hearts' content. Visit the fascinating Can Marca Caves, swim in crystal clear waters or just relax and enjoy the slow pace of village life.
San Miguel holidays offer the chance to enjoy a fantastic family-friendly beach just a short stroll away from the village. Shops sell all the essentials and beach bars offering snacks and drinks can be found along the coast. Food and drink is one of the main focuses of holidays in San Miguel, and some of the island's best seafood can be enjoyed in the many restaurants and bars.
San Miguel nightlife is focused around dining and drinking, with displays of traditional folk dancing popular in the summer months. Those in search of a livelier time can head to one of the nearby resorts where they can dance until dawn. We offer a range of hotels in Puerto San Miguel, including all inclusive.
Most popular hotels in Puerto San Miguel
Ole Galeon Ibiza Hotel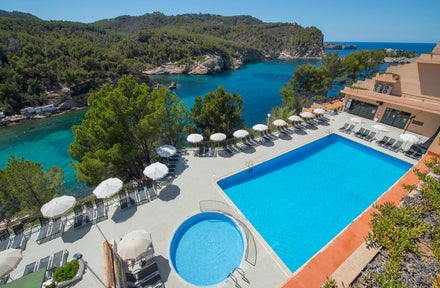 Ole Galeon Ibiza Hotel
Puerto San Miguel, Ibiza
Cartago Hotel Club
Cartago Hotel Club
Puerto San Miguel, Ibiza
At a glance
Currency:
Language:
Time Zone:

GMT +

Average flight time:

2h 35m
When to go
(°C) Avg. High Temp
All hotels in Puerto San Miguel
Not sure which Hotel to go to? Check out our top Puerto San Miguel hotels:
4 Star Hotels in Puerto San Miguel
3 Star Hotels in Puerto San Miguel