Puerto de Santiago holidays 2019 / 2020
Nestled in the heart of Tenerife's dramatic west coast, Puerto de Santiago is a hidden gem in the Canary Islands. This picturesque village combines the old-world charm of a fishing village with the modern amenities of a contemporary resort. Imagine whitewashed houses standing in stark contrast to the black volcanic sands and colourful fishing boats bobbing up and down in the water and you won't be far off. If you're in search of a tranquil destination for your 2019 / 2020 holidays, Puerto de Santiago could be the perfect fit.
Puerto de Santiago sits next to neighbouring resorts Playa de la Arena and Los Gigantes. Between these three settlements visitors have access to a vast selection of both natural and manmade attractions. Lounge on the black sandy beaches, walk through the craggy ravines to visit bustling local markets, or venture out into the sea on a boat tour of this rugged coastline. Shopping, dining, family entertainment and all inclusive await you in this area of natural beauty.
Most popular hotels in Puerto de Santiago
Blue Sea Lagos De Cesar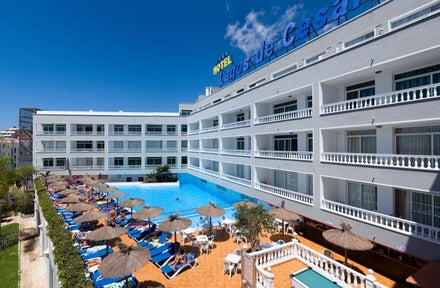 Blue Sea Lagos De Cesar
Puerto de Santiago, Tenerife
At a glance
Currency:
Language:
Time Zone:

GMT +

Average flight time:

4h 20m
When to go
(°C) Avg. High Temp
All hotels in Puerto de Santiago
Not sure which Hotel to go to? Check out our top Puerto de Santiago hotels:
4 Star Hotels in Puerto de Santiago