Portinatx holidays 2019 / 2020
If you are looking for a sun-soaked Spanish holiday in 2019 / 2020, then pack your bags for an unforgettable holiday in Portinatx. Sun worshippers who love glorious old town centres and stunning beaches will be right at home with Portinatx holidays.
Located in northern Ibiza, this exclusive retreat is a popular destination for travellers interested in soaking up the sun and living in the moment. Portinatx holidays are full of authentic sights and sounds, and the resort has everything there is to love about Ibiza. Calm, quiet and laidback, Portinatx is made for relaxation.
With so many beautiful sandy beaches, most of your holiday will be spent outdoors amongst nature. Whether you are seeking an adventure or you simply want to live like a local during your stay, you'll be captivated by this tiny slice of Spanish island heaven.
A family-friendly resort with gorgeous beaches and a laidback atmosphere, Portinatx holidays are perfect for those who want to experience Ibiza holidays away from the busier resorts. Don't fret, you are still near enough the action if you fancy a night out in one of Ibiza's top nightclubs.
What are you waiting for? Get ready for an island adventure like you have never experienced before. We offer a range of hotel and holiday types in Portinatx, including all inclusive.
Most popular hotels in Portinatx
Sandos El Greco Beach Hotel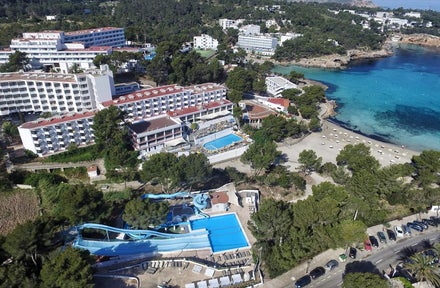 Sandos El Greco Beach Hotel
Portinatx, Ibiza
Del Rey Apartments
Del Rey Apartments
Portinatx, Ibiza
At a glance
Currency:
Language:
Time Zone:

GMT +

Average flight time:

2h 35m
When to go
(°C) Avg. High Temp
All hotels in Portinatx
Not sure which Hotel to go to? Check out our top Portinatx hotels:
4 Star Hotels in Portinatx
2 Star Hotels in Portinatx