Playa del Carmen holidays 2019 / 2020
Playa Del Carmen holidays can be as entertaining or as endlessly relaxing as you want them to be. Not content to just soak up the sun on the beach or take a dip in the sparkling ocean of the Mexican Caribbean Coast? Why not try your hand at a little windsurfing, enjoy the gorgeous views from above with some parasailing or explore the hidden treasures of the ocean with an exciting diving or snorkelling expedition?
Spend your days shopping on 5th Avenue and grab some traditional street food when you need a snack, but save some room for one of the restaurants in the evening. After dinner you can party like a local at the many bars and clubs by the beach, knock back a few tequila shots, put on your dancing shoes and show off your salsa skills!
Most popular hotels in Playa del Carmen
The Reef Coco Beach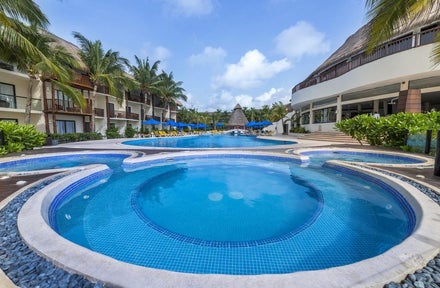 The Reef Coco Beach
Playa del Carmen, Riviera Maya
What could possibly be more inviting on holiday than being able to swim up directly to your room from the pool? We've got lots of fabulous hotels and resorts with this luxurious amenity at loveholidays.com – and, thanks to our
late deals
and low deposit holidays, they're more ...
At a glance
Currency:
Language:
Time Zone:

GMT +

Average flight time:

13h 40m
When to go
(°C) Avg. High Temp
Top Mexico holiday destinations
Want to explore more places like Playa del Carmen? Why not check out some of our top Mexico destinations:
All hotels in Playa del Carmen
Not sure which Hotel to go to? Check out our top Playa del Carmen hotels:
4 Star Hotels in Playa del Carmen