Introducing Pissouri holidays 2019 / 2020
If you crave a trip to a sleepy, traditional Cypriot village beside the beautiful south coast of Cyprus, holidays in Pissouri are the perfect solution. Proudly peering over the azure blue waters of the Mediterranean Sea, Pissouri tumbles across a hilly coastal plain, surrounded by rugged countryside and coastlines. Split between the village centre and the bay area, this peaceful destination offers the chance to experience traditional life, enjoy quiet days in the sun and laid back evenings with the locals. Whether you want a quiet family break in a sedate setting, or you're looking for a hint of romance and plenty of privacy, Pissouri holidays always provide a wonderful escape.
If you're searching for sunshine, sand and sea, the perfect setting awaits in the Pissouri Bay area, located in the the Limassol district, which is home to some beautiful and peaceful places to stay. A bed in these seafront hotels will allow you to wake up to views of dramatic cliff sides, valleys and the glistening ocean. Towards the village you will find a choice of self catering villas and apartments, allowing holidays in Pissouri to be enjoyed in a remote setting seeped with pure relaxation. Book yourself into one of these private home from homes to be within strolling distance of the village's restaurants and local shops.
Pissouri holidays are almost guaranteed a hefty slice of sunshine, as the village basks in it for 340 days of the year. The area enjoys a Mediterranean climate, with warm winters and hot summers. Visit between June and October to enjoy highs of between 27C and 31C, or travel over the spring and autumn months for average temperatures of 18C. Many visit the village for winter sunshine, with temperatures reaching as high as 17C between December and February.
Most popular hotels in Pissouri
Hylatio Tourist Village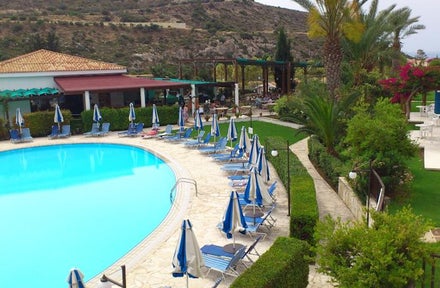 Hylatio Tourist Village
Pissouri
At a glance
Currency:
Language:
Time Zone:

GMT +

Average flight time:

4h 25m
When to go
(°C) Avg. High Temp
Top attractions
In the heart of Pissouri you will find charming alleys and hidden streets that are interspersed with restaurants and viewpoints, where you can absorb panoramic views across the Limassol coast. Looking over the village square is the Saint Andrew Church of Pissouri, which dates back to the 1800s. This striking gothic structure is a must-see for architecture fans, but many visit to see its renowned carved wooden Icon Stand.
Read More about Top attractions
Nightlife
This laid back atmosphere continues into the evenings, with sociable locals dining around the village square, enjoying regional Cypriot cuisine and drinks. Entertainment is served in the Amphitheatre, which regularly hosts musical performances and dancing. Greek nights are also held in the village square, with traditional meze food served alongside Cypriot entertainment.
Read More about Nightlife
Beaches
Pissouri is the perfect destination for relaxation day and night, suiting those that strive to do little more than sit back in the sunshine and sample the local cuisine. Pissouri Beach is distinct for Poussir village and provides a setting for sunbathing and watersports, while the surrounding countryside provides a beautiful scene for explorers who want to enjoy long walks and hikes.
You'll find a bunch of informal tavernas, some shops and of course, a beautiful, relatively unspoiled beach.
Read More about Beaches
Action & Adventure
Although it maintains a sleepy atmosphere, there are plenty of things to do in Pissouri and the surrounding area. The Blue Flag beach is the perfect place for some relaxation, but it also offers an array of water sports. Learn to dive with the local diving schools, and opt for some snorkelling to mingle with the underwater life. For exploration on dry land, hire a bike from the local diving centre, and delve into the sprawling surrounding landscape. You will encounter pretty orchards, beautiful vineyards and rugged cliff tops on your tour across the local area.
Read More about Action & Adventure
All hotels in Pissouri
Not sure which Hotel to go to? Check out our top Pissouri hotels:
3 Star Hotels in Pissouri