Introducing Peloponnese holidays
The Peloponnese peninsula of southern Greece is home to striking mountain ranges, dramatic coastlines and some of the richest history in the country. The cities of Sparta, Tripoli and Corinth are all found on the peninsula, with plenty of opportunities to soak up the delights of the Mediterranean.

Peloponnesian history is as legendary as they come. Home to both the Spartans and the site of ancient Olympia, where the Olympic Games began, the region is full of stunning ancient ruins, nestled among forests, rivers and mountains, while never being too far from the nearest sandy beach!

Explore or relax – the choice is yours. For cheap holidays in Peloponnese, look no further than our great deals, or keep reading below to learn more about the many wonderful destinations on the peninsula.
Top resorts in Peloponnese
Most popular hotels in Peloponnese
The Grove Seaside Hotel
The Grove Seaside Hotel
Nafplio, Peloponnese
Aldemar Olympian Village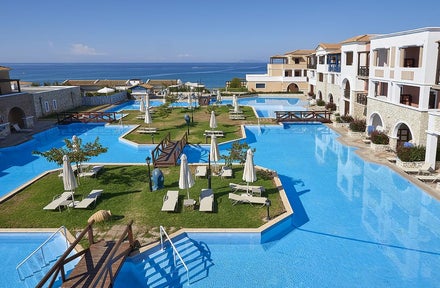 Aldemar Olympian Village
Skafidia, Peloponnese
Mmmmmm. Greek cuisine, part of the famous Mediterranean diet, is among the freshest and most delicious in the world. Expect seafood plucked straight from the sea, locally reared free-range meat from the inland hills, an endless variety of flavour-packed fruit and vegetables, and a huge choice of cheeses and cured ...
At a glance
Currency:
Language:
Time Zone:

GMT +

Average flight time:

3h 39m
When to go
(°C) Avg. High Temp
Top Peloponnese Destinations
Check out some of our most popular cheap holiday destinations in Peloponnese