Paleokastritsa holidays 2019 / 2020
If you're looking for scenic landscapes, secluded white sand beaches and crystal clear seas, you'll be pleasantly delighted whilst visiting the beautiful village of Paleokastritsa. Nestled beneath the lush green slopes of olive groves and citrus orchards, Paleokastritsa has long been considered one of the most breath-taking villages in Corfu. You'll discover an oasis of golden sandy stretches, cool aquamarine waters and lots of coves and caves to explore. Not to mention the 13th-century Angelokastro fortress, perched elegantly on top of the cliff with spectacular views that extend for miles into the horizon.
Although renowned for its relaxing coastal holidays and serene atmosphere, there's plenty of action and adventure to be had on the waves - from boat excursions and submarine tours to a variety of watersports. You'll never be short for entertainment, whether that's exploring the hillsides, villages and historical sites or simply relaxing under the warmth of the sun on one of the many beaches during your Paleokastritsa holidays in 2019 / 2020.
Most popular hotels in Paleokastritsa
CNic Paleo Art Nouveau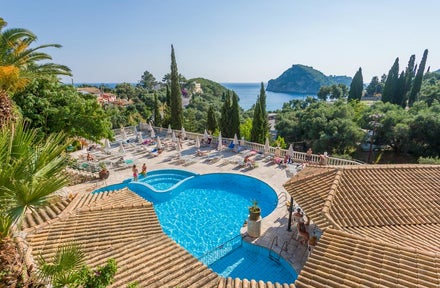 CNic Paleo Art Nouveau
Paleokastritsa, Corfu
Building sandcastles, jumping in the sea, making new friends, and eating ice cream may be at the top of your child's list for a fantastic summer holiday. Parents might add useful services like babysitters, mini clubs, and entertainment geared to all the family. At loveholidays, we've got you ...
At a glance
Currency:
Language:
Time Zone:

GMT +

Average flight time:

3h 0m
When to go
(°C) Avg. High Temp
Top Corfu Destinations
Want to know what else Corfu has to offer? Check out some of our top Corfu destinations:
All hotels in Paleokastritsa
Not sure which Hotel to go to? Check out our top Paleokastritsa hotels:
4 Star Hotels in Paleokastritsa