Awe-Inspiring Ouranoupolis
The religious gate to Mount Athos, Ouranoupolis holds a unique historical and cultural background, of which has seen the peninsula become dedicated to religious monasteries. Ouranoupolis holidays are as close as you can get to Mount Athos without prior permission allowing you to cross the border, unfortunately women are not permitted entry to the mountain and it is only on special conditions that anyone can pass. Having said this there are local cruises which will allow you to see the majestic mountain from the waters surrounding Halkidiki's third peninsula.
Most popular hotels in Ouranoupolis
Theoxenia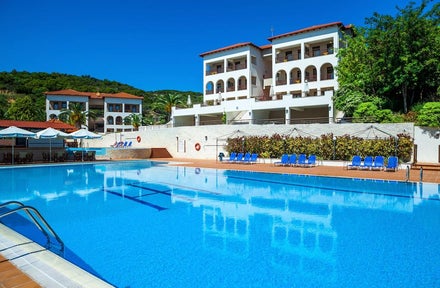 Theoxenia
Ouranoupolis, Halkidiki
At a glance
Currency:
Language:
Time Zone:

GMT +

Average flight time:

3h 10m
When to go
(°C) Avg. High Temp
Tranquil Serenity
An interesting past, until relatively recently during the 20th Century, Ouranoupolis was isolated from the rest of Greeceas there was no connective road which allowed people to visit the resort. Partly due to this, Ouranoupolis has been largely unaffected by the wand of mass tourism and many traditions are still in place, holidays to Ouranoupolis being the perfect place to relax and shut off from the world. Lush greenery and a long stretch of sandy beach makes the area ideal for sun-bathing or taking a refreshing walk through the vibrant vegetation. Blue Bayou is a good place to pick up some well-made cocktails for that tropical feel, but if you're looking for a little more culture you can head to the fenced border surrounding the mountain or visit the Byzantine Tower during your holidays in Ouranoupolis. Sea cruises are common in this area and it's a good way to see the playful dolphins hopping alongside the boat for a truly memorable experience.
All hotels in Ouranoupolis
Not sure which Hotel to go to? Check out our top Ouranoupolis hotels:
4 Star Hotels in Ouranoupolis