Introducing Olbia holidays 2019 / 2020
The vibrant little city of Olbia overlooks a gorgeous natural harbour on the north east coast of Sardinia. It has an airport and a ferry port, but is often overlooked in the rush to the glamorous resorts of the nearby Costa Smeralda. But Olbia has plenty to offer visitors, including a pretty little historic quarter, a host of great value restaurants and cafés, and plenty of traditional Sardinian charm. There are lots of fabulous beaches within easy reach, and you can take boat trips from the harbour to explore the fishing villages and islands, including the marine reserve of Tavolara Island, that dot this stunning stretch of coastline.
Most popular hotels in Olbia
Geovillage Hotel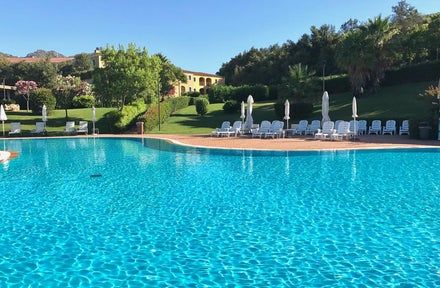 Geovillage Hotel
Olbia, Sardinia
Soak up the dolce vita with our essential guide to where to go in Italy. From the glamorous capital of Rome to medieval time capsules in Tuscany, we've picked out the best destinations in Italy for your holiday. Food, beaches, history, culture…we've got all the Italian highlights ...
At a glance
Currency:
Language:
Time Zone:

GMT +

Average flight time:

2h 25m
When to go
(°C) Avg. High Temp
All hotels in Olbia
Not sure which Hotel to go to? Check out our top Olbia hotels:
4 Star Hotels in Olbia