Nissaki holidays 2019
Set on the side of Corfu's highest peak, Mount Pantokrator, Nissaki is a great place to chill out and relax, whether up in the hills or on the beach. Despite the little village only having a population of around 400 people, it's big on hospitality, so you can be sure that your 2019 holiday to Nissaki will deliver. Meaning 'little island' in Greek, Nissaki is a beautiful, secluded resort in north-eastern Corfu, found off the stunning Greek coast. Resting around a trio of coves, with sweeping views out to Albania, the tiny island paradise is also a fishing village, so you can expect fresh catches of the day. The village enjoys year-round mild temperatures, perfect for both beach-goers and those who want to explore the nearby peaks on foot.
The gorgeous sandy beaches and relaxed surroundings of Nissaki make it fantastic place for families plenty of space for children to play and explore, or for those who just want to get away from it all. Plus its old world charm and clutch of friendly tavernas offer the quintessential Greek experience.
Most popular hotels in Nissaki
Sunshine Corfu Hotel & Spa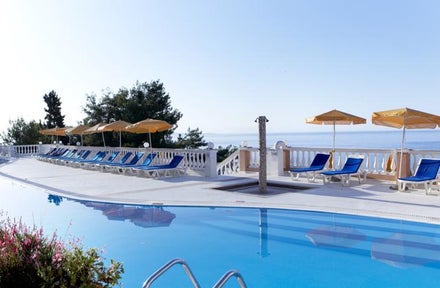 Sunshine Corfu Hotel & Spa
Nissaki, Corfu
At a glance
Currency:
Language:
Time Zone:

GMT +

Average flight time:

3h 0m
When to go
(°C) Avg. High Temp
All hotels in Nissaki
Not sure which Hotel to go to? Check out our top Nissaki hotels:
4 Star Hotels in Nissaki