Mykonos Holidays 2019 / 2020
Mykonos holidays allow you to enjoy the very best of Greek Island life, in a truly enchanting destination which has long been recognised for its character and charisma. As one of the most desirable holiday hotspots in Greece, this island offers a glittering town, a breathtaking coast, and beautiful azure waters.

Cheap holidays to Mykonos make it easy to explore the very best of the island, even on a budget. From the sophisticated Mykonos Town with its gleaming whitewashed buildings, often referred to as the 'heart of the island', to the serene retreat of Agios Ioannis, Mykonos is a great place to explore.

Want to stay in one of the top hotels in Mykonos? You're in luck. We've got some fantastic Mykonos holiday deals available, making it easier than ever before to jet off to the beautiful Greek Islands, learn more about the local culture, sample the cuisine, and enjoy a bit of much needed sun, sea, and sand.
Most popular hotels in Mykonos
Andronikos Hotel - Adults Only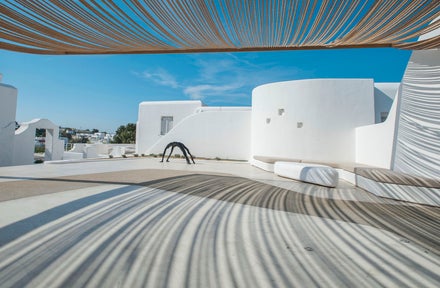 Andronikos Hotel - Adults Only
Mykonos Town, Mykonos
Mykonos Princess
Mykonos Princess
Aghios Stefanos, Mykonos
Planning on partying hard this summer? We've got the lowdown on the world's top 10 LGBTQ friendly destinations right here! Whether you want a beach break or a
city break
, we'll help you find the ideal holiday spot for you.
Everyone loves
Mykonos
! The nightlife is among the best in the Mediterranean, the food is fabulous, and the towns and villages ooze a winning combo of glamour and authentic charm. Then, of course, there are the beaches. Heavenly swathes of golden sand, secret coves and party hotspots – this tiny island ...
At a glance
Currency:
Language:
Time Zone:

GMT +

Average flight time:

4h 0m
Mmmmmm. Greek cuisine, part of the famous Mediterranean diet, is among the freshest and most delicious in the world. Expect seafood plucked straight from the sea, locally reared free-range meat from the inland hills, an endless variety of flavour-packed fruit and vegetables, and a huge choice of cheeses and cured ...
Our handy guide to where to go in 
Greece
will give you all the inspiration you need to book your dream holiday in Greece. Greece, the birthplace of western civilisation, has a long and fascinating history, made tangible in its magnificent ancient ruins, Byzantine monasteries and Venetian fortresses. Its beautiful ...
When to go
(°C) Avg. High Temp
Top Mykonos holiday destinations
Wondering where to go for a cheap holiday in Mykonos? Check out some of our top destinations: