Magnificent Milan holidays 2019 / 2020
A holiday to Milan effortlessly oozes style and sophistication; it is one of the world's most fashionable cities after all. Where else for a fantastic city break than Milan? Forget the picture-perfect palaces and side streets of Florence and Rome, this Italian city offers a slightly different vibe, with something to offer everyone. It's a forward-thinking, urban gem, that acts as Italy's industrial powerhouse. Despite this, the city still manages to remain romantic and exciting, with a much smaller amount of tourists than other Italian holiday destinations. Plus, you'll be surprised to know that holidays to Milan - especially if you book the flights at the right time - can be pretty cheap holidays.
Business and fashion are the driving forces behind Milan, but you'll discover that the city has a fascinating history, with plenty to satisfy culture vultures and art history buffs. The iconic gothic cathedral in the centre of town is a must-see, but that's certainly not all. The city's churches and art galleries house some of the world's most famous art works that have impressed visitors for centuries. Whether you're planning a romantic weekend away or a family holiday with a difference, a holiday spent in Milan in 2019 / 2020 certainly won't disappoint.
Most popular hotels in Milan
Hilton Garden Inn Milan North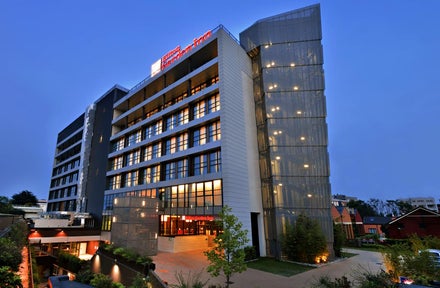 Hilton Garden Inn Milan North
Milan, Lombardy
Soak up the dolce vita with our essential guide to where to go in Italy. From the glamorous capital of Rome to medieval time capsules in Tuscany, we've picked out the best destinations in Italy for your holiday. Food, beaches, history, culture…we've got all the Italian highlights ...
At a glance
Currency:
Language:
Time Zone:

GMT +

Average flight time:

2h 5m
When to go
(°C) Avg. High Temp
All hotels in Milan
Not sure which Hotel to go to? Check out our top Milan hotels:
4 Star Hotels in Milan