Magical Malia holidays 2019 / 2020
The coastal town of Malia is Greece's party capital with thrilling nightlife and a big personality. Although Malia holidays have become most popular for clubbers visiting Crete, the town still functions as a cultural and historical attraction. As a result, the town allures a varied demographic, with sights and sounds to suit those in search of both hedonism and education. The preserved monuments in Elounda and the museums and archaeological sites of Heraklion, maintain the town's rich history. If you'd prefer to retreat from the lively nightlife, a plethora of nearby villages showcases quaint beaches and scenic beauty.
At first glance, Malia is a modern town with towering buildings, with world-class nightlife and activity-fuelled beaches to match. All of which are a great combination for a lads' holiday. Despite the party credentials, cheap holidays to Malia will also include visits to tiny medieval churches and a secret network of cobbled streets in the hidden old town. For opportunities to relax, you can head to one of the beaches to bask in the sun or visit a laid-back tavern to try the local cuisine.
For a heady mix of wild nightlife, Mediterranean sunshine and stunning beaches, Malia has it all. Spend your days playing games on the magnificent beaches, discover the fascinating archaeology or explore the local culture. When the sun goes down you can get drinks at a beach bar and then hit the strip for your choice of buzzing pubs, bars and clubs.
Malia has plenty of choice when it comes to accommodation, so to have a look at your options, check out our top hotels in Malia!
Most popular hotels in Malia
Maria Rousse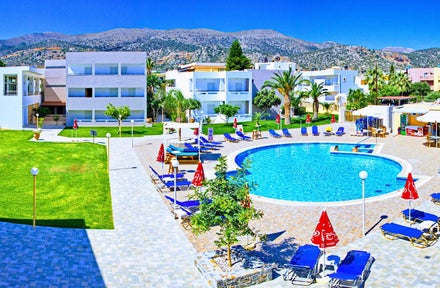 Maria Rousse
Malia, Crete
At a glance
Currency:
Language:
Time Zone:

GMT +

Average flight time:

4h 0m
When to go
(°C) Avg. High Temp
Top Malia holiday destinations
Like the sound of Malia but want to explore some more of the region? Here are some other great destinations you can find in Crete:
All hotels in Malia
Not sure which Hotel to go to? Check out our top Malia hotels:
3 Star Hotels in Malia