Lombardy at a Glance
Lombardy is one of the wealthiest and most dynamic regions in Italy. It stretches from the Alps south to the Po valley, and is home to the gorgeous Italian Lakes, the vibrant regional capital of Milan and a clutch of historic cities, including Cremona, Mantua, Brescia and Bergamo. Whether you want to ski or sunbathe, go hiking or hit the fashion boutiques, Lombardy has a wealth of attractions to suit all interests! Milan is Italy's undisputed capital of fashion and design, and boasts everything from glitzy shops to the La Scala opera house and the Basilica di Santa Maria delle Grazie, which contains da Vinci's celebrated painting The Last Supper. The Italian Lakes – Lake Garda, Lake Maggiore and Lake Como – have been a popular summer retreat for centuries, and their shores are dotted with opulent villas and gardens.
Let us help you discover this alluring region of Italy through one of our cheap holiday deals. Just use our handy open-search to hunt through all of our hotels in Lombardy and then pick the one you like best. Then, with our price calendar, pick the cheapest date and away you go. We make magnificent holidays affordable.
Most popular hotels in Lombardy
NEO Hotel
NEO Hotel
Milan, Lombardy
Hilton Garden Inn Milan North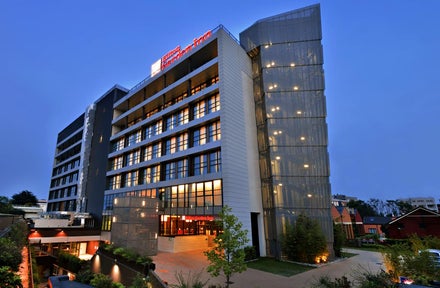 Hilton Garden Inn Milan North
Milan, Lombardy
Soak up the dolce vita with our essential guide to where to go in Italy. From the glamorous capital of Rome to medieval time capsules in Tuscany, we've picked out the best destinations in Italy for your holiday. Food, beaches, history, culture…we've got all the Italian highlights ...
At a glance
Currency:
Language:
Time Zone:

GMT +

Average flight time:

1h 55m
When to go
(°C) Avg. High Temp