Larnaca holidays 2019 / 2020
As the oldest city in Cyprus, Larnaca is home to historical wonders, stunning beaches and lively nightlife. Spend your days relaxing on the vast swathes of Blue Flag sandy beaches, wandering down the pretty rows of palm trees along the sea front, or uncovering the mysteries of ancient Cyprus on your holiday. This picturesque resort is located conveniently close to the airport, as well as the clubber's paradise of Ayia Napa.
To escape the hustle and bustle, head over to the idyllic Protaras or explore the fascinating sights in nearby Limassol. Away from the big resorts, Larnaca displays sweeping countryside in an unexplored region of rocky plains and sprawling fields decorated with windmills and wildflowers. If you are a keen walker or fancy a picnic, get out of town and head for the lemon trees.
With its stunning Mediterranean coastline, and an array of bars and cultural sights, Larnaca is the ideal destination for families and couples. A cheap holiday in Larnaca offers something for all ages - a refreshing combination of Cypriot culture and a modern vibe that promises a memorable stay.
Most popular hotels in Larnaca
Palm Beach Hotel & Bungalows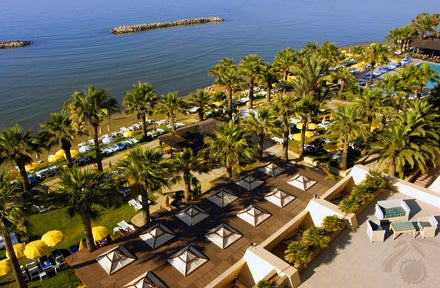 Palm Beach Hotel & Bungalows
Larnaca
The Ciao Stelio Deluxe Hotel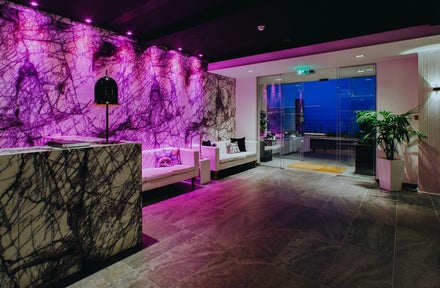 The Ciao Stelio Deluxe Hotel
Larnaca
Cyprus
, the birthplace of Aphrodite, is a beautiful island full of charming and historic towns, magnificent ancient sites, and, of course, stunning beaches. To help you make the most of your Cyprus holiday, we've come up with a week-long itinerary that covers all the main highlights, from mountain villages ...
Cyprus
puts on a fantastic show for visitors, with a host of atmospheric festivals of performing arts, plus all kinds of unique local traditions. New Year's Eve is a blast – not just for the firework shows, but also because it's the night when Ayios Vasilis (Saint Basil) brings children ...
At a glance
Currency:
Language:
Time Zone:

GMT +

Average flight time:

4h 45m
Cyprus
is the third-largest island in the Mediterranean, and has scores of fantastic beaches, many of which have been awarded Blue Flags for the clarity of the water and the huge range of facilities on offer. You will truly be spoilt for choice, with options for all kinds of visitors ...
Majorca
has long been a fantastic party holiday destination, but the introduction of the increased tourist tax is making some of us consider other places to let our hair down. We've picked out our top 10 alternative party holiday destinations – which one's your favourite? These all offer plenty ...
When to go
(°C) Avg. High Temp
Places to go
Looking for somewhere near Larnaca?
All hotels in Larnaca
Not sure which Hotel to go to? Check out our top Larnaca hotels:
5 Star Hotels in Larnaca
4 Star Hotels in Larnaca