Discover Lardos holidays 2019 / 2020
The small village of Lardos sits 2 kilometres inland on the south east coast of Rhodes in Greece. The hive of activity is centred on the village square that boasts charm and a great sense of tradition. With access to a beautiful stretch of sand and shingle beach this fascinating village provides a perfect setting for your holiday this year.
Most popular hotels in Lardos
Olive Garden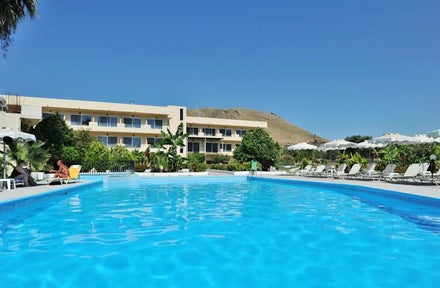 Olive Garden
Lardos, Rhodes
Costa Lindia Beach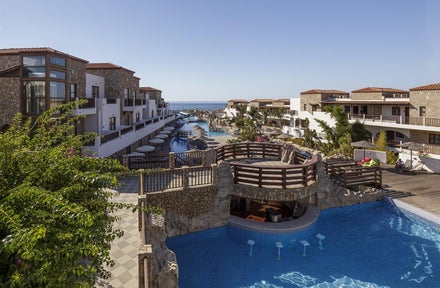 Costa Lindia Beach
Lardos, Rhodes
At a glance
Currency:
Language:
Time Zone:

GMT +

Average flight time:

4h 20m
When to go
(°C) Avg. High Temp
Lardos beach holidays
A beach holiday in Lardos is all about lazing on the sand and shingle beach, soaking up the sunshine. Why not dip your toes in the crystal clear waters or snorkel around the sea bed. The beach offers a range of water sport activities and plenty of sun beds and parasols to hire, which is great for finding that perfect spot to relax for the day on your beach holiday. With shops and eateries in Lardos bay, this resort provides great amenities for family holidays.
Explore Lardos
A holiday in Lardos provides two settings; one in the village that is 2 kilometres inland and the other is at Lardos bay where there are a number of shops, eateries and accommodation to choose from. Head to the village square, find one of the tavernas to sit in and marvel at the Italian fountain. Why not hire a bike and head to the beautiful Lothiarika Beach or visit the ruins of the Byzantine Castle of Lardos just outside of the village. For a great day out with the kids on your family holiday to Lardos, head to the vast Water Park in Faliraki – with so many great rides to get your adrenalin going, you won't want to leave.
A holiday in Lardos would not be complete without a visit to the medieval walled city in Rhodes Town where you can walk along the small narrow cobbled lanes that burst on to bustling squares littered with cafes and shops – a great way to spend your holiday. Lardos is near to the pretty resort of Lindos, which is well worth a visit. Evening entertainment is also centred around the village square, where the local tavernas serve excellent Greek dishes – so what are you waiting for, book now!
For a cheap holiday in Lardos, loveholidays.com offer a range of great value for money accommodation and cheap flights.
All hotels in Lardos
Not sure which Hotel to go to? Check out our top Lardos hotels:
3 Star Hotels in Lardos