Lagos Holidays 2019 / 2020
Holidays to Lagos, Portugal, a vibrant, bustling town in the beautiful region of the Algarve, offer an exciting beach getaway coupled with a city-like experience you'll never forget. Lagos holds a prime position on the sunny coastline, making it one of the most popular holiday destinations in Portugal.

Lagos is famous for its walled town and iconic cliffs that act as a gateway to the Atlantic islands. The beaches, such as Praia da Batata, are a big draw, although this is also an active watersports area popular with anyone looking to try their hand at surfing, kayaking, kite surfing, and other outdoor pursuits.

We've got some top Lagos hotels for you to check out… and the best thing is that they don't have to cost a fortune! Cheap holidays to Lagos are simple to find, and while they're very budget-friendly, you'll have complete peace of mind that you don't need to compromise on sun, sea, sand, and all inclusive indulgence.
Most popular hotels in Lagos
Luz Bay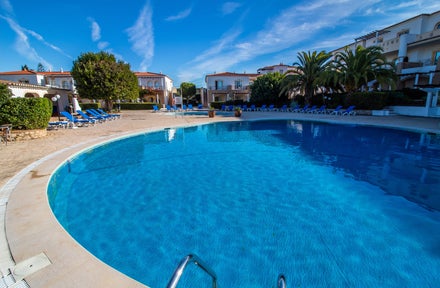 Want a romantic holiday on a budget? Feel like bask on a stunning beach somewhere hot? Or fancy exploring a new city with your partner? Whatever you're looking for, we've got you covered! You don't need to break the bank to enjoy an unforgettable holiday for two ...
At a glance
Currency:
Language:
Time Zone:

GMT +

Average flight time:

2h 55m
When to go
(°C) Avg. High Temp
All hotels in Lagos
Not sure which Hotel to go to? Check out our top Lagos hotels:
4 Star Hotels in Lagos