Lovely La Pineda holidays 2019 / 2020
A seaside resort famed for its sun-drenched Mediterranean climate, La Pineda offers powdery golden sands and a bevvy of family-friendly attractions. Nestled along the Costa Dorada just an hour's drive south of Barcelona, this laid-back beach town is conveniently located near the Port Aventura theme park. If you're in search of a relaxed holiday in 2019 / 2020, La Pineda offers an abundance of award-winning beaches to spend your time on.
Lively Salou is located nearby, with its buzzing nightlife and cultural attractions. Within La Pineda, you'll find a concentration of tapas bars, restaurants and friendly pubs, as well as plenty of shops and water sports facilities. Stay in La Pineda to soak up its mellow atmosphere on unspoilt beaches, or explore the Costa Dorada region at your leisure. The landscape's rustic castles, sprawling vineyards and lush olive groves also include sleepy medieval settlements and farmers' markets. And with all the attractions of glamorous Barcelona within easy reach, you'll find everything needed for an unforgettable Spanish getaway.
Most popular hotels in La Pineda
Golden Donaire Beach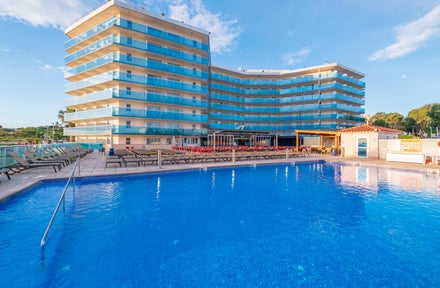 Golden Donaire Beach
La Pineda, Costa Dorada
At a glance
Currency:
Language:
Time Zone:

GMT +

Average flight time:

2h 15m
When to go
(°C) Avg. High Temp
Places to go
Choose from our top destinations near La Pineda
All hotels in La Pineda
Not sure which Hotel to go to? Check out our top La Pineda hotels:
4 Star Hotels in La Pineda