Introducing Kolymbari holidays 2019 / 2020
A pretty little fishing village at the foot of the wild and beautiful Rodopos peninsula, Kolymbari is the perfect spot for a holiday in the sunshine. This tranquil spot has preserved all its traditional charm, and you can relax on the beach, watch the fishing boats bob in the harbour, or explore the gorgeous green hills that stretch behind it. There is a good choice of cafés and tavernas, where you can tuck into tasty local specialities, and the vibrant resort of Platanias is only a 10-minute drive away if you want a great range of nightlife. Enchanting Chania is also within easy reach, and is packed with historic sights, boutiques and bars.
Most popular hotels in Kolymbari
Pergamos Village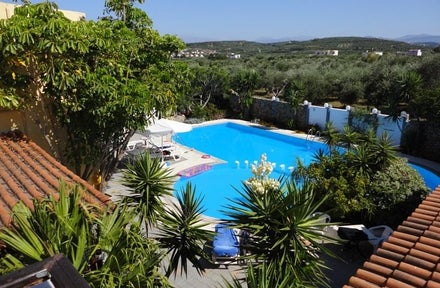 Pergamos Village
Kolymbari, Crete
Selini Suites
Selini Suites
Kolymbari, Crete
Welcome to your perfect holiday oasis! Relax in style on the glorious northern coast of
Crete
at the Cavo Spada Luxury Sport and Leisure Resort and Spa. Perfectly located in the picturesque fishing village of
Kolymbari
, a short drive from the charming city of
Chania
, this sublime hotel will cater ...
At a glance
Currency:
Language:
Time Zone:

GMT +

Average flight time:

4h 10m
When to go
(°C) Avg. High Temp
All hotels in Kolymbari
Not sure which Hotel to go to? Check out our top Kolymbari hotels:
4 Star Hotels in Kolymbari
3 Star Hotels in Kolymbari