Khao Lak holidays 2019 / 2020
With its sandy beaches that stretch for miles, not to mention once-in-a-lifetime scenery, Khao Lak holidays are a great way to get a dose of peace, quiet and natural beauty on your 2019 / 2020 holiday.
Have your breath taken away by the region's diverse surroundings that combine bright blue waters with golden sands, jagged limestone rock structures and turquoise lagoons. Forest-covered hills surround the coastal areas, making for spectacular views from the beach and calming, warm oceans beyond. The emphasis here truly is on natural beauty – islands of rock and trees, peaceful beaches, long boats floating in the waters and incredible wildlife.
A network of interesting little towns and villages full of bustling markets, seafood shacks and lively bars ensure that you're never too far from civilisation in Khao Lak, for that true taste of Thai hospitality and culture.
Most popular hotels in Khao Lak
Kalima Resort & Villas Khao Lak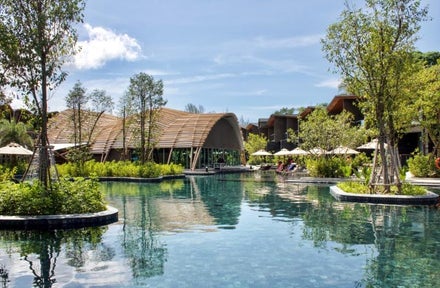 Kalima Resort & Villas Khao Lak
Khao Lak
At a glance
Currency:
Language:
Time Zone:

GMT +

Average flight time:

16h 50m
When to go
(°C) Avg. High Temp
All hotels in Khao Lak
Not sure which Hotel to go to? Check out our top Khao Lak hotels:
5 Star Hotels in Khao Lak