Kefalos holidays 2019 / 2020
If you're thinking 'Greece' for your 2019 / 2020 cheap summer holiday, think Kefalos. Around 40km to the south west of Kos Town, Kefalos is a stunning traditional Greek village. It's perched high up on a hill and offers magnificent views out across the Mediterranean. Said to be the first village built on the island of Kos itself, there is no shortage of history, culture, and beauty to take in here.
Kefalos is really a village of two halves. There is the coastal half, the long, white and gold beaches, the restaurants, the excitement and the adventure of the water sports centres. And then there is the charming old town itself, the other half, the cosy, quiet, gorgeously delightful half that oozes tradition and is full of stunning architecture.
Whether one half appeals, or you fancy a bit of both, there's plenty to discover. Whatever you choose, your Kefalos holiday is sure to bring you happiness, memories, and joy.
Most popular hotels in Kefalos
Ikos Aria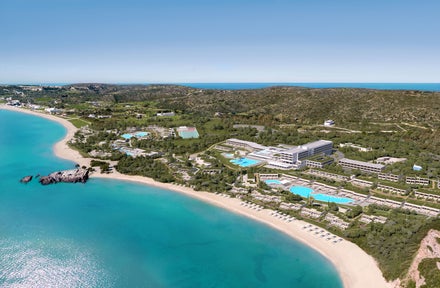 At a glance
Currency:
Language:
Time Zone:

GMT +

Average flight time:

4h 10m
When to go
(°C) Avg. High Temp
Top Kefalos Destinations
Check out some of our most popular cheap holiday destinations in Kefalos
All hotels in Kefalos
Not sure which Hotel to go to? Check out our top Kefalos hotels:
5 Star Hotels in Kefalos