Arabian Nights in Jebel Ali
A jewel sat perfectly on the coast of the Arabian Gulf, Jebel Ali is the ultimate in luxury Arabian holidaying.
Situated a handful of kilometres away from the hustle and bustle of downtown Dubai, holidays to Jebel Ali are the perfect way to mix the decadence of the city with the pleasures afforded by the several high-end all inclusive resorts located next to Jebel Ali's pristine white beaches. Enjoy a round of golf or be pampered in a spa – It's impossible not to kick back and relax in the luxury of your Jebel Ali holidays. You'll find yourself in the heart of one of the world's premier megacities, and the iconic destination of the UAE, surrounded by incredible shopping, breath-taking architecture and a welcome dose of culture.
Most popular hotels in Jebel Ali
Movenpick Ibn Battuta Gate Hotel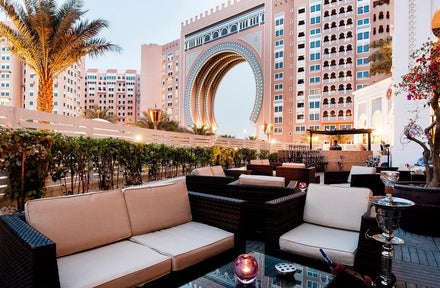 Movenpick Ibn Battuta Gate Hotel
Jebel Ali, Dubai
At a glance
Currency:
Language:
Time Zone:

GMT +

Average flight time:

11h 10m
When to go
(°C) Avg. High Temp
Things to do in Jebel Ali
Jebel Ali, of course, is all about soaking up the extravagant surroundings and some of those well-deserved rays.
When you've decided you've had enough of R&R, then the busy streets of Dubai are only a few kilometres down the road – definitely don't miss the opportunity to experience the Middle East's crowning glory. Go bargain hunting at the traditional Arabian souk markets, or stretch your wallet at the many lavish shopping malls and extravagant boutiques. Whilst there, be sure to head to the tallest building in the world – the Burj Khalifa – and check out the stunning view from the observation gallery. A 'Day and Night' pass can be bought, allowing you to check out the city from above during the day and after dark. If you've got kids with you, then they will absolutely love the Lost Chambers Aquarium, modelled on the sunken kingdom of Atlantis, and showcasing the best of the fabulous local marine life.
Spot of Luxury, Touch of Adventure
Jebel Ali has a number of high-end resorts for you to live out your getaway in style. Among the area's most sought-after hotels include 5-star resorts boasting their very own private beaches, water parks and restaurants – you have to indulge in the high life every once in a while. With the glittering waters of the Arabian Gulf just a stone's throw away from Jebel Ali's resorts, it really would be a waste not to cool off by cruising along the coast in style on a traditional Arabian dhow. For those looking for something a little more white-knuckle during their holidays in Jebel Ali, most resorts offer speed boat tours and rent out Jet Skis. If you forgot to pack your sea legs, then relax, cocktail in hand, at the side of the swimming pool or chill in a sun lounger on your private beach or rent a private boat and park up in the stunning Dubai Marina.
If you fancy yourself as a bit of a Lawrence of Arabia, then a desert safari is not to be missed. Enjoy dune-driving in a 4x4, riding a camel, or even try your hand at 'sand-skiing' – a truly unique experience in the Dubai desert. To get a different perspective, opt for a hot air balloon trip over the desert. Timed to coincide with the sunset, this really makes for an absolutely unforgettable experience.
Temperatures in the UAE are varied throughout the year. The summer months particularly see scorching temperatures, while the months between December and March see tourists enjoying skin-tingling highs of 30C. If perfect getaways mean sun, sea, sand and glorious temperatures to you, then Jebel Ali holidays are your perfect match.
All hotels in Jebel Ali
Not sure which Hotel to go to? Check out our top Jebel Ali hotels:
5 Star Hotels in Jebel Ali