Gorgeous Gerakini holidays 2019 / 2020
Framed by vibrant pine trees and olive groves, holidays to Gerakini encapsulate the heart and beauty of the Halkidiki peninsula in Greece, displaying verdant showings of luscious vegetation and only a stone's throw away from overlooking strikingly blue waters. You'll find a lovely curving beach not far away and here you can satisfy any needs you may have to sunbathe and surrender to Greece's alluring sunshine. With a backdrop of mountains you can also enjoy a picturesque stroll as you make your way around the horseshoe bay, whereas taverns and bars will ensure you're well-fed and watered for any excursions or explorations you wish to take away from the base of your Gerakini holidays.
The Ideal Base
As well as having the perfect place to take a walk through the luscious surroundings, you'll also be well-rewarded when setting aside time to explore the rest of the area. Halkidiki is a region brimming with potential and offering a wealth of attractions for the adventurers and backpackers at heart. Not only will you be subject to the diverse offerings of varying cultures in the vicinity, but with panoptic views of fabulous sights, holidays in Gerakini rarely disappoint. Visit one of the three pronged peninsulas which fork out from the underside of Halkidiki, each section of land providing different appeals which will captivate any manner of holidaymaker, whether you're searching for solace among the religious rituals of Mount Athos, hoping to see some of the region's finest beaches or wanting to get involved in a scuba-diving session or two elsewhere – Halkidiki will serve you well in a number of ways.
Most popular hotels in Gerakini
Ikos Olivia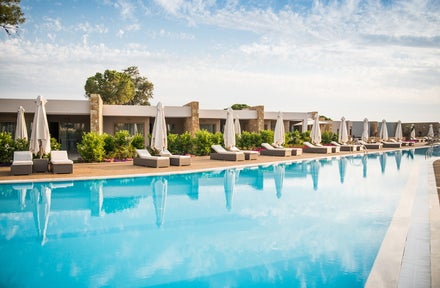 Ikos Olivia
Gerakini, Halkidiki
Glavas Inn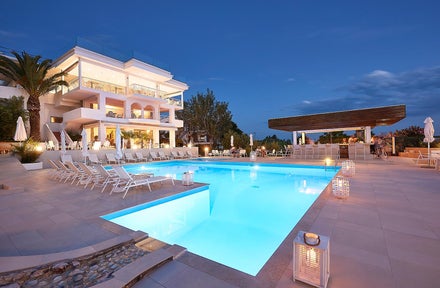 Glavas Inn
Gerakini, Halkidiki
At a glance
Currency:
Language:
Time Zone:

GMT +

Average flight time:

3h 10m
When to go
(°C) Avg. High Temp
All hotels in Gerakini
Not sure which Hotel to go to? Check out our top Gerakini hotels:
5 Star Hotels in Gerakini
3 Star Hotels in Gerakini