The Dominican Republic holidays 2019
The Dominican Republic is arguably the most diverse of all the Caribbean islands. The Dominican Republic has gorgeous mountains, sandy deserts and sun-swept beaches to thrill you on your Caribbean adventure. If you are looking for something exotic for your 2019 or 2019 holiday, the Dominican Republic is the place to go.
From the romantic Santo Domingo to the stunning wraparound terrace houses in Puerto Plata, whether you choose to stay in an all inclusive or self-catering, you will find plenty more than just a beach holiday in the Dominican Republic. The Dominican Republic continues to be one of the most popular long-haul destinations.
Tourists looking to get out of the busy cities and into the relaxing countryside can do so in minutes. Driving along the highways, you will be in the scenic outskirts and on secluded beaches in no time. Why wait to start your holidays? Book your flights now and head out to the Caribbean in 2019 or 2019. Let us help you find a great deal on a cheap holiday to the Dominican Republic.
Top resorts in Dominican Republic
Most popular hotels in Dominican Republic
Whala Boca Chica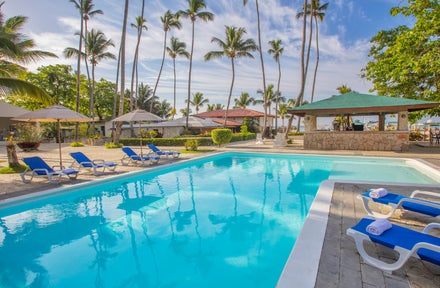 Whala Boca Chica
Boca Chica
The Dominican Republic is well known for many things such as, luxurious resorts, lovely sandy beaches and glamourous golf courses. In addition to this, the Dominican Republic is also known for its lively culture with an emphasis on art forms like music and dance. However, their cuisine shouldn't be ...
The Caribbean is home to a beautiful set of islands which offer crystal clear waters, amazing wildlife and fauna and a wonderful climate that we can all appreciate. Many of us flock to these islands for a beach holiday or summer getaway. However, the Caribbean is often subjected to horrible ...
At a glance
Currency:
Language:
Time Zone:

GMT +

Average flight time:

9h 10m
The Caribbean
has always been an attractive holiday location. But how do you decide where to go when there are numerous islands to choose from? Glorious beaches, the laid back atmosphere and tons of culture, all create the typical Caribbean vibe that we have all come to love. When the ...
Imagine this: you're stretched out in the sun on a white-sand beach, the Caribbean Ocean sparkling before you. Time, perhaps, for a dip? Or maybe the spa is calling. Nope. Too hard to leave this gorgeous private beach right now. Tonight you're thinking of going to that fantastic ...
When to go
(°C) Avg. High Temp
Top Dominican Republic destinations