Discover Didim Holidays
Didim, and its modern neighbour, Altinkum, are a joint gem on Turkey's Aegean coast, mixing top-quality beaches with ancient history, mountains and lakes inland with lively nightlife by the sea. It's a popular choice for couples and families, who particularly love its child-friendly beaches. The local climate guarantees around 300 days of sunshine a year and all-year-round temperatures that make it a good winter sun destination.
Altinkum – the resort centre – has three beaches: the big town-centre Main Beach, a smaller Second Beach, and Third Beach, which, with its inviting shallows, is the family favourite. Around these beaches have grown up a lively – and very British friendly – resort. Restaurants line the promenade and the harbour has become a hub of water sports and boat trip activity.
Didim has much deeper roots, and is an important ancient site, with the ruins of the Ancient Greek Temple of Apollo the star attraction.
Most popular hotels in Didim
Aquasis Resort & Spa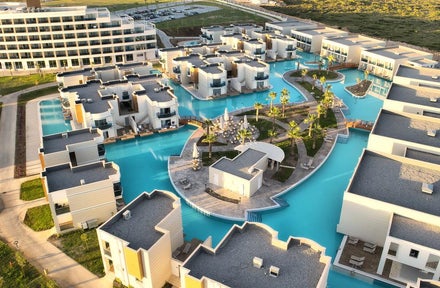 Aquasis Resort & Spa
Didim, Aegean Coast
At a glance
Currency:
Language:
Time Zone:

GMT +

Average flight time:

3h 55m
When to go
(°C) Avg. High Temp
Top attractions in Didim
Great golden sands that are groomed every morning will have you plonking your towel down on Altinkum's beaches. The Aegean is calm and warm, an inviting prospect both for kids and water sports enthusiasts. The seafront is busy, with loads of bars and restaurants that mix British-friendly food and drink with local favourites.
Didim now has two water parks, both of which have plenty of fans. Didim Aquapark is the older of the two, mixing pools, foam experiences, rides, and dancing in the water. The newer park is based around riding on inflatables, and neighbours the Luna Park, an old-fashioned funfair.
For a complete change of scene, head inland through the mountains to the Lake Bafa Nature Park, a huge expanse of water that was once part of the Aegean. It's a landscape that's still very untouched, with wild olive trees tumbling down the slopes above the lake and pretty fishing villages on its shores.
Didim is an ancient city. The Temple of Apollo has suffered from earthquakes over the centuries, but it's still possible to get a sense of the size of one of Ancient Greece's largest sacred sites. Didyma, the ancient city on which the newer Didim was built, is also worth exploring.
Don't Miss!
The Besparmak mountains are just behind the coast. This beautiful range holds not just the Lake Bafa Nature Park but also some top-quality trekking and cycling country. The ruins of a string of beautiful Byzantine monasteries can be explored to the east of Lake Bafa.
Ephesus is also within easy reach of Didim. This astonishing place is one of the most complete and best-preserved ancient sites in the world, once home to one of the Ancient Wonders of the World. As well as Ancient Greek and Roman archaeology, Ephesus is an important Christian site, with many ancient churches, and it has been the place where the New Testament Book of Revelation was written.
If the local water parks don't quite float your boat, there's a real giant about an hour-and-a-half away in the shape of Adaland at Kusadasi. This massive attraction mixes top-of-the-range water park rides with dolphin and sea lion shows, including the chance to swim with dolphins.
All hotels in Didim
Not sure which Hotel to go to? Check out our top Didim hotels:
5 Star Hotels in Didim