Discover Dassia holidays 2019 / 2020
The lively beach resort of Dassia sits on the north east coast of Corfu in Greece, just 10km north of Corfu Town. It is ideal for those looking for an active beach holiday, with plenty of sunshine, water sports and safe swimming conditions for children.
Most popular hotels in Dassia
Ikos Dassia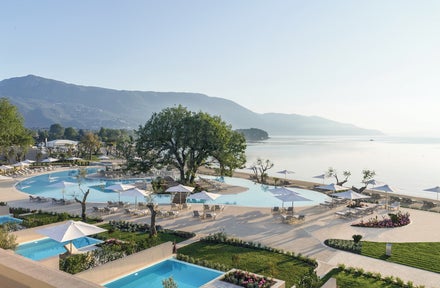 Ikos Dassia
Dassia, Corfu
Grecotel LUX ME Daphnila Bay Dassia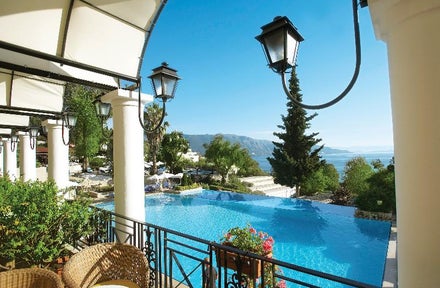 Grecotel LUX ME Daphnila Bay Dassia
Dassia, Corfu
At a glance
Currency:
Language:
Time Zone:

GMT +

Average flight time:

3h 15m
When to go
(°C) Avg. High Temp
Dassia beach holidays
A beach holiday in Dassia is perfect for family holidays with a long and narrow shingle beach that gently shelves on to calm clear waters, so you can relax in the sunshine whilst the kids paddle in the sea. For those of you who like to get your feet wet on holiday, Dassia beach offers a range of water sports to choose from such as: windsurfing and water skiing. Why not try a banana boat ride with the kids on your beach holiday – they will love it!
Explore Dassia
If you're after a holiday that offers it all, then Dassia is the ideal choice. Why not hire a boat, follow the coastline and find a secluded cove for a day of peace and relaxation in the sun on your holiday. Dassia has many non-beach activities on offer such as golf, horse riding or why not hire a bike, head inland and see where it takes you. If you're interested in history and the culture of Greece, then your trip would not be complete without a visit to the Achilleion Palace that was built for the Empress Elizabeth of Austria. Take a trip to Corfu Town where you will find bustling streets, Venetian architecture, great shops and museums.
For a great day out with the kids, head to Aqualand Water Park where there are many hair-raising chutes and slides to get your pulse racing on. Why not visit the neighbouring resorts of Ipsos or Gouvia for a fun day on the beach followed by a lively evening. Or if you're after a more chilled out affair, find a local taverna, sit back and listen to the waves gently lapping the water.
loveholidays offer a range of cheap flights and accommodation so you can plan your perfect cheap holiday.
All hotels in Dassia
Not sure which Hotel to go to? Check out our top Dassia hotels:
5 Star Hotels in Dassia
4 Star Hotels in Dassia