Calpe holidays 2019 / 2020
At the heart of the Costa Blanca is Calpe, an ancient fishing village set along a coast of golden sands and the Mediterranean Sea. Sitting in the shadows of its famous 332 metre tall Rock of Ifach, the unmissable peak sits between the resort's two sandy beaches. At the top, outstanding panoramic views can be enjoyed.
This charming resort is a blend of natural landmarks, ancient cultural attractions and modern amenities that will make your holiday memorable. Whether you want to spend your days on the sun-kissed beaches, soaking up some Spanish culture in the old town, or exploring the highlights of the coast, a cheap holiday to Calpe has it all.
The sun shines on Calpe throughout the year, with average temperatures of 20°C, soaring to 40°C during the summertime. You can cool off from all the heat in the Bay of Calpe's crystal clear waters.
Calpe is designed with holidaymakers in mind. Its marina has been awarded a Blue Flag and is surrounded by seafood restaurants and open-fronted shops. Along the coastline is a ribbon of high-rise hotels overlooking the beach and the seafront promenade is studded with modern bars and restaurants.
Most popular hotels in Calpe
Gran Hotel Sol y Mar . The Unusual Hotel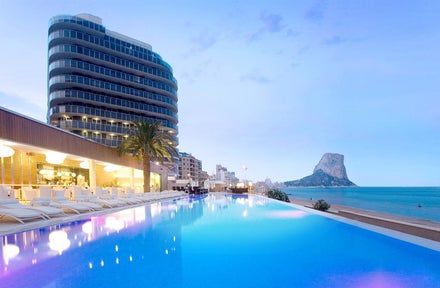 Gran Hotel Sol y Mar . The Unusual Hotel
Calpe, Costa Blanca
Hotel Bahía Calpe by Pierre & Vacances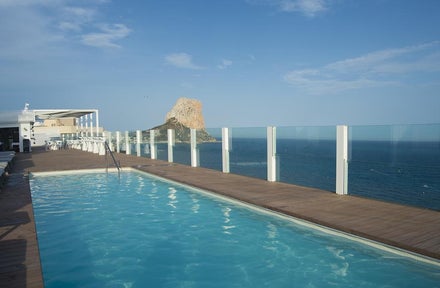 Hotel Bahía Calpe by Pierre & Vacances
Calpe, Costa Blanca
The
Costa Blanca
('White Coast') is famous for its beautiful beaches of white sand, but also boasts some very pretty little coves and bays that are less well known. We've picked out our favourites along this fabulous coastline in this list of the top 10 beaches on the Costa ...
At a glance
Currency:
Language:
Time Zone:

GMT +

Average flight time:

2h 25m
When to go
(°C) Avg. High Temp
Top Calpe Destinations
Check out some of our most popular cheap holiday destinations in Calpe
All hotels in Calpe
Not sure which Hotel to go to? Check out our top Calpe hotels:
4 Star Hotels in Calpe