Beautiful Bur Dubai holidays 2019 / 2020
Authenticity is rife in this district of Dubai, coupling ancient attractions and modern activities that provide an irresistible allure taken advantage of by many Dubai holidaymakers.
Bur Dubai holidays are entertaining as well as educational. The longstanding buildings represent a resilience that also translates to the people of Bur Dubai. Much of the district has maintained its originality and refused to conform to overbearing modern ideals. A perfect blend of new builds and ancient sites makes holidays to Bur Dubai the perfect tourist attraction. Marvel at the forts and museums by day, and sample some of the best wine and grub UAE has to offer in the evenings.
Most popular hotels in Bur Dubai
Grand Hyatt Dubai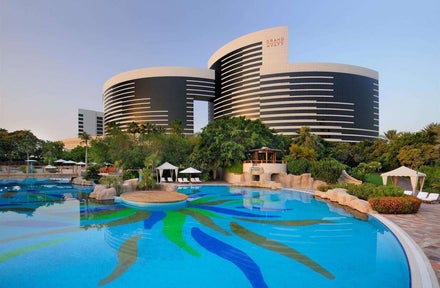 Grand Hyatt Dubai
Bur Dubai, Dubai
At a glance
Currency:
Language:
Time Zone:

GMT +

Average flight time:

11h 10m
When to go
(°C) Avg. High Temp
Top attractions
Our 5-star hotels will be sure to inject a little luxury to your Bur Dubai holidays, with all inclusive apartments and swanky suites on the menu. If you can't get enough of the luxurious life, head over to the Dubai Marina where you can visit over 130 outlets at the Dubai Mall, including a cinema and authentic restaurants at the seven-storey gourmet tower. Beach bums are in luck too as the highly recommended Jumeirah Beach is just a short drive away. Sit on a sunbed on the sand or have a barbeque on the well-preserved lawns, or grab an ice cream or cold drink at the promenade cafes, a necessity when the temperatures are reaching 45C in the summer!
Read More about Top attractions
Culture
Bur Dubai holidays aren't complete without a bit of culture. Luckily for you, there is plenty to be explored here. Between the Dubai Creek and Bur Dubai sits a maze of sandstone buildings that plays host to the Bastakia Quarter. The authenticity of Dubai is truly alive here, as the heritage site hosts wind towers, the Ostra gallery that specialises in contemporary art and sculpture, and an Arabian Tea House situated in the courtyard. For a waterfront stroll, head to the Shindagha, a historically self-contained area that still showcases many of Dubai's old houses. A few of these houses have been converted into museums, including the Traditional Architecture Museum and the Sheikh Saeed al Maktoum House. The autonomy and independence still resonates in the area, it's here you will find a welcoming local spirit and an accommodating atmosphere.
Read More about Culture
All hotels in Bur Dubai
Not sure which Hotel to go to? Check out our top Bur Dubai hotels:
5 Star Hotels in Bur Dubai