This mountain village is one of the most charming destinations within the Costa del Sol region. Although located back from Spain's ever-popular Mediterranean Sea, you'll still discover countless Benahavis attractions to keep you from flocking back towards the sand.
The village is located between Marbella, Estepona and Ronda, sitting just seven kilometres from the sparkling ocean. The mountainous landscapes and penetrating rivers are one of the overriding images of Benahavis, and that natural beauty has been utilised by various golf courses and exciting walking trails.
Most popular hotels in Benahavis
Colina del Paraiso by Checkin Hoteles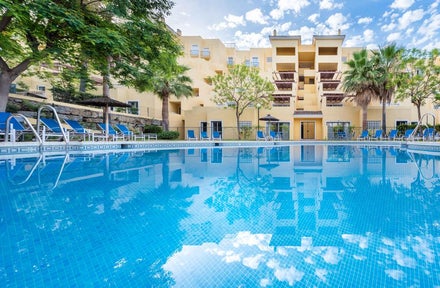 Colina del Paraiso by Checkin Hoteles
Benahavis, Costa del Sol
At a glance
Currency:
Language:
Time Zone:

GMT +

Average flight time:

2h 55m
When to go
(°C) Avg. High Temp
Things to do in Benahavis
Top Attractions
You'll always find things to do in Benahavis, but if you'd like to get your fill of the sand and sea, the incredible coastline of the Costa del Sol is just a stone's throw away.
Wine and Dine
The culinary scene is one of the great attractions – the village is often referred to as the dining room of the Costa del Sol. The renowned restaurants found in Benahavis will allow you to sample a flavour of Spain and the Mediterranean. The majority of the restaurants are traditional, and to find your fill of international cuisines you'll have to flock to a coastal resort.
Some of the best restaurants in town include Restaurant El Castillo, Amigos and La Torre. El Castillo boasts an interesting Scandinavian twist to the typical Spanish tapas and other specialities, Amigos has some sensation seafood straight from the Mediterranean, while La Torre is the place to go for a Spanish-style steak.
Action and Adventure
While much of the Costa del Sol's action and adventure can be found in the form of water sports within the region's various resorts, you'll find a different type of active thrill in the mountainous surroundings of this village.
The natural beauty will offer you many things to do in Benahavis, especially for those seeking outdoor pursuits. There are some fantastic walking opportunities found in the mountains along various dirt tracks that creep up to the numerous peaks. You'll be treated to great views of the impressive Montemayor Castle and of course the wonderful coastline. The mountainous terrain is also fantastic for rock climbing, and you'll find various climbing routes embedded in the Las Angosturas Gorge.
For something a little more sedate, Benahavis is home to nine of the region's 60 golf courses, so if you've brought your clubs with you, you'll find endless action on the fairways and the greens, and hopefully not too much in the bunkers!
Family Fun
The village atmosphere doesn't quite possess the vibrant family-friendly perks of the nearby beach resorts, but those looking for a little more tranquillity during their family holiday will be glad to choose Benahavis as their destination.
The village is home to a great sports complex that offers swimming, tennis, table tennis and football to youngsters and those hoping to get active. While many children will love walking around the local area and trying to spot some of the region's diverse wildlife, including mountain goats, wild boar and golden eagles.
If the family attractions in Benahavis begin to wane, you'll find countless things to do with the kids in the local vicinity. Marbella is just a stone's throw away and offers a host of exciting water sports to families, while in nearby Benalmadena you'll find thrilling rides of the Tivoli World Amusement Park.
Nightlife
While the nightlife in Benahavis isn't exactly what you'd call 'pumping', there are a number of cosy, atmospheric and charming bars in the village that remain open quite late. In addition to offering tasty snacks, the order of the evening will be a selection of fantastic wines and strong cocktails. Some of the best options include La Bodega Bar and Courtyard, Lili's Panambi and La Tasquita de Paca.
If the sedate atmosphere isn't quite gratifying your night owl urges, then heading into one of the resort towns or cities will help to give you your fill of drinking and dancing. Marbella, Fuengirola and Malaga will provide you with some of the best nightlife spots, all varying in class and appeal.
Recharge and Relax
There are many things to do in Benahavis to help you chill out and recharge your batteries. If skipping from dining haven to dining haven or strolling around the gorgeous natural landscape isn't enough, then perhaps you'd like to take a refreshing dip in one of the village's three rivers?
Spoil yourself in one of the 5-star hotels found in the many golf resorts. Many of the hotels have some great swimming pools, hot tubs and saunas for you to relax in, which is ideal if you've just had a dodgy 18 holes.
All hotels in Benahavis
Not sure which Hotel to go to? Check out our top Benahavis hotels:
4 Star Hotels in Benahavis