Awesome Andalucia holidays 2019 / 2020
With Moorish architecture, vibrant culture, and a coastline full of picturesque beaches, there's something for everyone on holidays to Andalucia. This large, southernmost region is the birthplace of quintessential Spain – bullfighting, flamenco dancing, and even tapas had their origins here. It's divided into eight distinct provinces, from the capital of Seville to the excellent Almeria. All eight are rich in culture and activities, so you'll never be short of things to do in Andalucia, whether you're visiting the Alhambra Palace in Granada, touring the Mezquita of Córdoba, or soaking up the Spanish sun on a beach in Costa de Almeria. With our top deals on flights and 7 nights holiday packages, your holiday to Andalucia 2019 / 2020 can be a cheap holiday!
Most popular hotels in Andalucia
Patio de la Alameda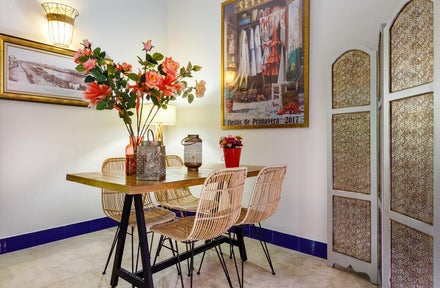 Patio de la Alameda
Seville, Andalucia
Even if you've never been to
Spain
, chances are you already know its most famous dishes, such as tortilla (the thick, potato omelette), paella (everyone knows paella!), patatas bravas (fried potatoes smothered in a spicy sauce), and jamón ibérico (the classic Spanish ham). Foodies love Spain, with its amazing ...
At a glance
Currency:
Language:
Time Zone:

GMT +

Average flight time:

3h 0m
When to go
(°C) Avg. High Temp