Introducing holidays to Aghia Parsakevi
Aghia Parsakevi is an idyllic village on Skiathos' beach-scattered southern coast. The village is an ideal destination for holidaymakers who enjoy lazy days on the beach, savouring traditional Greek cuisine and a calmer nightlife. There's no better place to experience Greek village life than Aghia Parsakevi. The village is very small and features just a handful of attractions, including a beautiful church and a small selection of tavernas serving traditional local dishes. Its quiet seclusion is its biggest attraction. Unlike many coastal holiday destinations, which pulse with energy and noise during the night, Aghia Parsakevi is so quiet at night you'll be able to hear the sound of crickets.
The compact size of the resort makes it ideal for people who prefer a fuss-free holiday without having to rely on lots of public transport and rigid planning. You can simply get up, grab your bag and go, popping into tavernas on your way around the village while savouring the wonderful Greek cuisine.
Most popular hotels in Aghia Paraskevi
Skiathos Princess Hotel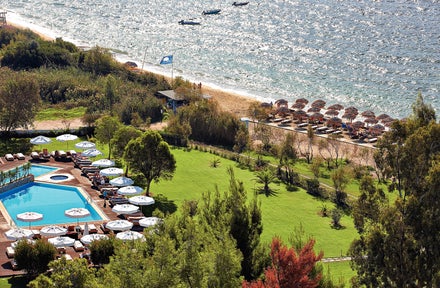 Skiathos Princess Hotel
Aghia Paraskevi, Skiathos
At a glance
Currency:
Language:
Time Zone:

GMT +

Average flight time:

3h 35m
When to go
(°C) Avg. High Temp
Life's a beach
Due to the quiet nature of the village of Aghia Parsakevi, many holidaymakers opt to enjoy the beach of Platanias, which stretches from the village in the west to Kolios Beach in the east. Platanias is renowned for its fine sands and clear waters; it's the place to be for sunbathing and swimming, making it ideal for families and couples alike. The waters close to the beach are shallow with plenty of shaded areas, great for those who prefer a cooler spot to relax in.
As the beach shelves deeply into the water, there's plenty of opportunities for swimming and snorkelling to explore the marine life up close and personal. The beach offers good water sport facilities including boats to hire, as well as a tavern at the beachside that serves drinks and snacks throughout the day.
Top attractions
Aside from the stunning beach at Platanias, there's plenty to do in the surrounding areas. Platanias Valley offers many opportunities for walks and sightseeing and if you take a stroll along the coast, you'll come across a peaceful, secluded cove that makes a great lookout point. If you fancy a more exciting evening, you can hop on the bus that runs frequently to the beach destination of Koukounaries and the capital of Skiathos, Skiathos Town. In Skiathos, you can walk around and enjoy the scenic architecture, meander around the cobbled streets or search for bargains in the local shops.
There's a fantastic medieval castle that's well worth a visit in Skiathos, a great spot for taking in the breath-taking views of the nearby harbour and the blue waters of the sea. No visit to Platanias is complete without a day trip to the medieval village of Kastro, a cultural experience that's truly unforgettable. Adventurers of all ages will love a trip to the caves at Spilia Kaminari and the Lalaria Beach Caves. Boat trips are offered to nearby islands and around the striking coastline of Platanias, offering numerous photo opportunities to cherish your memories of your time in this idyllic destination.
All hotels in Aghia Paraskevi
Not sure which Hotel to go to? Check out our top Aghia Paraskevi hotels:
5 Star Hotels in Aghia Paraskevi