Hisaronu holidays 2019 / 2020
If you're looking for the ideal destination for a 2019/2020 holiday in Turkey, Hisaronu deserves a place right at the top of your list. Over the past decade, the formerly sleepy farm village of Hisaronu has been revitalised into a tourist-friendly resort that comes alive from April to November each year.
Thanks to protection orders in Olu Deniz, a bay nearby, Hisaronu has become a popular choice for tourists looking for a resort with all the amenities one could wish for. Hisaronu is renowned as being the most vibrant resort in Fethiye, with a gorgeous flat terrain sat atop a hill, as well as a lovely breeze from the mountains that will keep you feeling comfortable and refreshed even in the summer months.
In spite of its rapid evolution into a popular tourist resort, Hisaronu has a decidedly Turkish ambience and has kept most of its authentic charm and culture. The prices here are reasonable and there are plenty of bars, cafes and restaurants, so it's great for holidaymakers who are travelling on more of a shoestring budget and looking for a cheap holiday. What Hisaronu lacks in size, it more than makes up for in ambience. The resort is generally quiet and relaxed but has plenty of activities on offer including the Luna Amusement Park, drag show at Talk of the Town and plenty of local events including dancing and live music.
Most popular hotels in Hisaronu
Ocean Blue High Class Hotel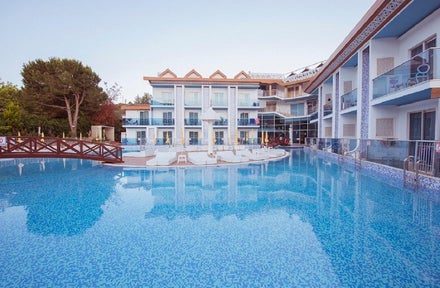 Ocean Blue High Class Hotel
Hisaronu, Dalaman
At a glance
Currency:
Language:
Time Zone:

GMT +

Average flight time:

4h 15m
When to go
(°C) Avg. High Temp
Top Hisaronu Destinations
Check out some of our most popular cheap holiday destinations near Hisaronu
All hotels in Hisaronu
Not sure which Hotel to go to? Check out our top Hisaronu hotels:
4 Star Hotels in Hisaronu