Altea holidays 2019 / 2020
Located on Spain's stunning white coast, or Costa Blanca, Altea is one of the most charming towns in Alicante. Although Altea is a neighbour of Benidorm, the two resorts are worlds apart. The mature portion rests on top of a hill where you can gaze across out of the coastline and admire the spectacular views. Not forgetting the impressive blue and white church with its tiled dome roof, so stunning it is one of the most photographed landmarks of the whole area. Visiting the old town is definitely a must-see when in Altea. The cobbled streets are packed with classy restaurants and an interesting formation of shops offering elegant local crafts, paintings and gifts.
As exciting as the old town of Altea sounds, you can't forget about the newer part of Altea, with its pebbled beaches along the promenade and the marina. Nothing says holiday quite like taking a gentle stroll to the beach and fine dining at one of Altea's much loved restaurants, accompanied by the serene backdrop of the painted horizon. What more could you want from your 2019 / 2020 holiday?
Most popular hotels in Altea
Cap Negret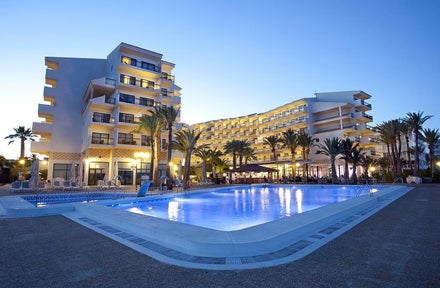 Cap Negret
Altea, Costa Blanca
The
Costa Blanca
('White Coast') is famous for its beautiful beaches of white sand, but also boasts some very pretty little coves and bays that are less well known. We've picked out our favourites along this fabulous coastline in this list of the top 10 beaches on the Costa ...
At a glance
Currency:
Language:
Time Zone:

GMT +

Average flight time:

2h 25m
When to go
(°C) Avg. High Temp
All hotels in Altea
Not sure which Hotel to go to? Check out our top Altea hotels:
4 Star Hotels in Altea